Media releases
Arts Academy Showcase ends year on a high
Posted: Thursday 7 November 2019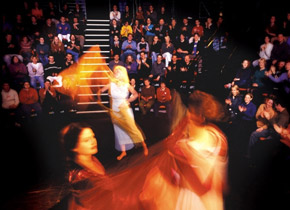 From Chekhov to Pink Floyd, from Frozen to Little Shop of Horrors, Federation University's Acting and Music Theatre students will showcase their talents in a series of performances at the Arts Academy in Ballarat this week.
An annual tradition within the Arts Academy, the 2019 Showcase is the final performance the third-year students will give before graduating, giving them the opportunity to put into practice all of the skills they have learned during their studies.
To be held from 7 to 9 November, the 2019 Showcase features the Acting Company performing a series of monologues from 7:30 to 9:00pm.
This includes solo texts written by the students and a series of contemporary monologues by writers from Australia, UK, USA and Canada.
This performance will be followed by the Music Theatre students from 9:00 to 10:30pm.
They will perform solos, duets and ensembles from musicals such as Company, The Addams Family, Rock of Ages, Annie, Muriel's Wedding, Spamalot and much more.
Tickets are sold separately for Acting and Music Theatre Showcase performances and are only available on Eventbrite:
https://www.eventbrite.com.au/e/acting-showcase-2019-tickets-70585939445
https://www.eventbrite.com.au/e/music-theatre-showcase-2019-tickets-70587594395
The Showcase artistic team features directors Kim Durban and Anthony Crowley; musical director Shanon Whitelock and choreographers Teresa Colantuono and Eden Read.
Quotes attributable to Director of the Arts Academy, Associate Professor Rick Chew
"It is always a bittersweet moment when we host the end of year showcases. We are very proud of our graduating students and how they have excelled in their studies but we are also sad to see them leave."
"The 2019 Showcase promises to be outstanding and I encourage people not to miss out on seeing these talented emerging artists perform."