Media releases
Exploring the spread of disease in Antarctic wildlife
Posted: Wednesday 23 October 2019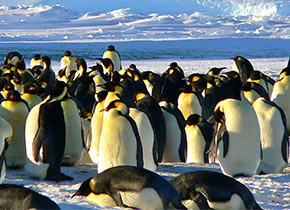 Researchers at Federation University Australia will investigate the prevalence of infectious diseases among Antarctic wildlife to find out how to decrease the risk of diseases being transmitted between people and wildlife in Antarctica.
The research has been awarded an Australian Antarctic Science Grant of $148,000.
The Federal Government grant will support the first long-term study to provide insight into the structure and function of microbial communities of Antarctic seabirds and their pathogens over the past two decades.
Federation University's Dr Meagan Dewar will lead the project, in collaboration with scientists and doctors from the Australian Antarctic Division and the University of Western Australia.
Knowledge about the microbial composition of Antarctic wildlife and the pathogenic organisms they harbour is scarce. This project will also examine the zoonotic pathogens associated with seabirds that could pose a significant disease risk to humans working in the Antarctic environment.
Quotes attributable to Federation University's Dr Meagan Dewar
"This study will also provide insight into how the microbial community of Antarctic seabirds has changed over the past two decades and provide vital baseline data for future seabird monitoring and disease surveillance programs within Antarctica."
"This research grant will greatly improve our knowledge on the microbial composition and prevalence of pathogens in Antarctic wildlife and assist in our work to decrease the risk of disease transmission to wildlife and humans in the Antarctic."
Quote attributable to project collaborator, Australian Antarctic Division's Seabird Ecologist Dr Louise Emmerson
"From an ecological perspective we are looking at what disease the birds are carrying in relation to their winter migration routes and whether they are likely to come into contact with other species during that period as some species stay in the Antarctic sea-ice zone, and others travel a long way north."
"Through this we should also be able to identify which species may be vectors for disease into Antarctica and provide a baseline of prevalence of disease for the seabirds so that we can see how they respond as any pressures on the Antarctic seabirds increase."
"From our human perspective, this project will help us understand whether we need to modify the behaviour of our field teams beyond our current hygiene approach to minimise potential transmission to the birds from our teams, or to our teams from working with the birds."