Media releases
Joseph Beuys exhibition to open at Arts Academy
Posted: Tuesday 22 October 2019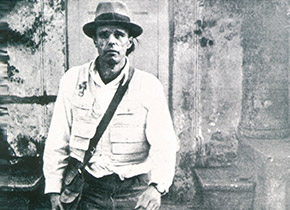 A rare exhibition by internationally acclaimed German artist Joseph Beuys who worked with fat and felt will be launched at Federation University's Post Office Gallery this week.
The iconic works by Joseph Beuys include his renowned films, 'multiples' and sculptures spanning the 1960s to the artist's death in 1986.
One of the most influential conceptual artists of the second half of the twentieth century, Beuys was a sculptor, performance artist, printmaker, political activist, and teacher and an important contributor to the avant-garde 1960s/70s international Fluxus movement alongside George Maciunas, John Cage and Yoko Ono, among others.
Known for his highly original and controversial ideas, themes and practices, Beuys championed the possibilities of art to enact positive social and political change and activate the intellectual and creative capacity in all of us, believing 'everyone is an artist'.
Beuys' work is heavily influenced by his controversial personal history. Following a plane crash when he was a Luftwaffe pilot in World War Two, Beuys claimed he was rescued by nomadic Tatar tribesmen who wrapped him in animal fat and felt and nursed him back to health - an experience that was to significantly shape his work and artistic practice.
The exhibition - Joseph Beuys: The Revolution Is Us - will be launched at 6:30pm, Friday 25 October, at the Post Office Gallery, Sturt St, Ballarat, and continue until Saturday 16 November. The Gallery and the University are very grateful to the Joseph Beuys Café, Melbourne, for making this important exhibition possible.
La rivoluzione siamo Noi (The Revolution is Us), 1972 © Copyright: Edition Staeck, Heidelberg
Quotes attributable to Director, Arts Academy, Associate Professor Rick Chew
"This is a truly significant exhibition for the Arts Academy and a fitting one. Beuys' concept of the artist emancipated; a 'freedom being', 'called to participate in transforming and reshaping…our lives' – is powerful and relevant."
"We are proud to present this snapshot of one of the most significant conceptual and performance artists of the twentieth century. Our sincere thanks go to Dr Lynne Reeder at Compassionate Ballarat for assisting in making this happen."
Quotes attributable to Curator of the Post Office Gallery, Shelley Hinton
"It's extraordinary to be presenting the work of one of the most important artists in the world. Years following his death, Beuys' notion of 'social sculpture' endures with the potential to positively change and transform society's understanding of the significance of creativity."
"We are also pleased to present the exhibition during the first Compassionate Ballarat Week."