Media releases
University to host free public lecture for White Ribbon Day
Posted: Wednesday 19 September 2018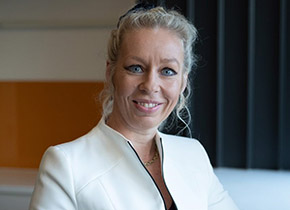 Understanding the urgency and importance of research in the area of family violence, Federation University Australia is providing the community with the opportunity to attend a free lecture on family violence to commemorate this year's White Ribbon Day.
This year's White Ribbon Day is 23 November, which is the Friday before the International Day for the elimination of violence against women.
The free public lecture will be delivered by Federation University Australia's Associate Professor Elisa Backer, who is undertaking her second PhD, which is in the area of family violence.
The topic of Associate Professor Backer's second PhD is 'Victims of Family Violence and their children: how does equal shared parental responsibility post-separation impact their quality of life?'.
"Family violence is a major concern to society. On average one woman is killed each week by a former or current partner. It is also the primary cause of homelessness for women and their children," Associate Professor Backer said.
Family violence causes great trauma and damage to victims and children and the ignorance surrounding this issue is egregious.
"Society lacks an understanding of how serious this issue is. Society believes that women experiencing family violence should simply leave but it is much more complex than that," Associate Professor Backer said.
"The risks to women and their children are considerably greater during separation. Women who have been choked are at particular risk during separation."
The presentation will outline what is family violence, what underlies the motives from abusive and controlling men to behave that way, and why behaviour doesn't usually change.
Included will be coverage of the types of mind games played by abusive and controlling men and why they can appear to be one thing to the public but be another behind closed doors.
Federation University Australia is a White Ribbon Accredited Workplace.
"Education and awareness about family violence are crucial steps to eliminate it from our communities," Adrian Tinetti, White Ribbon Ambassador and member of FedUni's White Ribbon Steering Committee, said.
"This research will better inform us of the particularly tragic impact on women and children during and after separation."
The lecture will be held at 11am on Friday 23 November in the Brewery Building at Ballarat Technology Park Central, 106 Lydiard Street South, Ballarat.
Bookings can be made at publicrelations@federation.edu.au