Media releases
Governor-General Sir Peter Cosgrove opens new Student Commons
Posted: Thursday 16 February 2017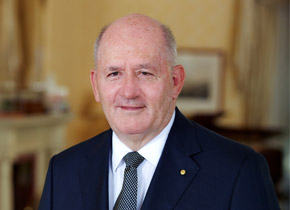 The Governor-General of Australia, Sir Peter Cosgrove, has opened Federation University Australia's new Student Commons at the Mt Helen Campus.
"The University is honoured that the Governor-General, Sir Peter Cosgrove, agreed to visit the University and open our new Student Commons," Professor Andy Smith, Acting Vice-Chancellor, said.
"The Commons will provide our Mt Helen students with a kitchen, casual study areas, and space to talk and relax. The glass walls can also open out to a larger courtyard.
"Situated on the ground floor of our S building, the Student Commons was designed by educational design consultants and architects. It also had input from our Student Senate."
Operating as an open group study space, the Centre will allow students to collaborate on group assignments, undertake self and peer directed learning while engaging in a casual social environment.
"The $1.8 million refurbishment is part of a wider rejuvenation of many of the buildings in the central area of the Mt Helen Campus," Professor Smith said.
The Student Commons is situated opposite the Albert Coates Complex.
"We were very pleased to host Sir Peter at our Mt Helen Campus," Professor Smith said.
"After the opening, three recent alumni students performed a medley of war songs, arranged for banjo, guitar and vocals."
Casey Binks, Oliver Cowen and Nicholas Rijs are graduates of the Bachelor of Acting for Stage and Screen at the University's Arts Academy.