Media releases
Unearthing the past to enable a modern era for SMB Campus
Posted: Thursday 26 May 2022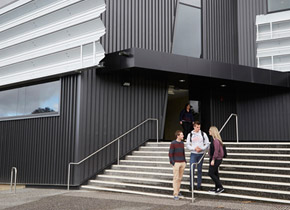 The transformation of Federation University Australia's SMB Campus has entered an exciting new phase with construction underway on a proposed IBM Emerging Technologies Hub.
The Hub will aim to support high-end displays and ways to interact with big and diverse data sets that are inherent in much of modern research.
The project will involve the extension of Technology Park Central to house the planned Hub, which will support researchers to showcase big data research, and to connect with industry partners, collaborators and students.
The project will help bring to life Federation's Campus Vision, including revitalising the historic SMB Campus, which seeks to consolidate activity into the campus through the development of new learning and innovation spaces, generating new jobs and economic activity in the heart of the Ballarat CBD.
The planned project is funded as part of a $9.5 million Victorian Higher Education State Investment Fund grant which also supported the refurbishment of the SMB heritage building on Lydiard Street to house the Federation University Business Centre of Excellence.
A time capsule was recently unearthed from the courtyard of Technology Park Central to enable construction works to commence.
Under controlled conditions a conservator opened the capsule from 1997 which contained business cards, photographs, a payslip, newsletters, a menu from Prospects Training Restaurant and a copy of the Ballarat Courier, among other items.
The capsule was buried at a pivotal time in Federation's history when School of Mines Ballarat (SMB) and the Wimmera Institute of TAFE were about to merge with the University of Ballarat to create a dual-sector institution. The University of Ballarat would later become Federation University Australia in 2014.
Quotes attributable to Federation University Vice-Chancellor and President, Professor Duncan Bentley
"We have a vision to transform the historic SMB Campus into a vibrant teaching hub with a university town atmosphere where the university is connected to industry and community in the heart of the CBD."
"The IBM Emerging Technologies Hub supports that vision and will allow our researchers to showcase big data sets that are inherent in much of modern research."
Quotes attributable to IBM Consulting Managing Partner ASEANZK, Doug Robinson
"IBM's enduring collaboration with Federation University continues to accelerate the development of essential digital and technical skills in regional Australia, building diverse talent within the community."
"The IBM Emerging Technologies Hub will create a space to help foster collaboration among industry and university experts to help solve real-world challenges."
Quotes attributable to Minister for Higher Education Gayle Tierney
"Unearthing this time capsule is a great way to mark the site's training legacy and look to the exciting opportunities it will provide to Ballarat students into the future."
"We're proud to continue backing world-class education at Federation University, including through our unprecedented Victorian Higher Education State Investment Fund."