Media releases
International singer Lior to perform in Ballarat with Arts Academy orchestra and choir
Posted: Friday 11 October 2019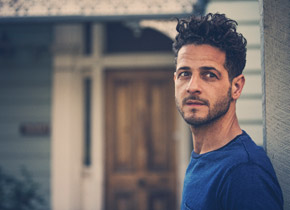 Australian singer-song writer Lior will take to the stage in Ballarat in a Concert for Compassion – an exciting collaboration with the Federation University Arts Academy that will see the internationally acclaimed Indie-folk star perform alongside the university's orchestra and choir.
Hosted by Federation's Arts Academy and Compassionate Ballarat, the concert will feature songs from Compassion, a song cycle by Nigel Westlake and Lior, and Samuel Barber's beautiful Adagio in its original version for string quartet.
It also will feature the Victorian premiere of Arts Academy Director and composer Richard Chew's post-conflict oratorio Stari Most, for orchestra, soprano and baritone soloists and chorus.
Stari Most is about building bridges in war-torn communities. In this piece of music – an anthem to the healing of a community – the choir, accompanied by operatic soloists and an orchestra of professional musicians, tells the story of the beautiful and historic bridge at Mostar in Bosnia Herzegovina, as it is systematically annihilated and rebuilt.
The libretto by Peter Cann sensitively explores how love and pain wove its way between the bullets and rubble hand in hand.
This performance of Stari Most will feature soloists from the State Opera of South Australia, students from the Arts Academy and Loreto College and the Inscape Chamber Orchestra.
It will be led by internationally acclaimed violinist Dunja Lavrova and film maker Alex McEwan will fly from the UK to project a backdrop of stunning images made especially for the work.
The Concert for Compassion will close a week of events celebrating compassion in action across the city of Ballarat.
The concert will be held at the Performing Arts Centre, Loreto College, on Sunday, 27 October, from 6:30pm. Tickets are available through https://www.eventbrite.com/e/concert-for-compassion-tickets-72332214601
Quotes attributable to Director of Arts Academy, Associate Professor Richard Chew
"It's been great to connect our students from the Arts Academy with students from Loreto College for this performance. The chance for them to work with a professional orchestra alongside international artists such as Lior is such a privilege and an invaluable learning experience."
"I am delighted to be able to present my choral work Stari Most in this special Concert for Compassion in Ballarat. It promises to be a memorable evening."