Media releases
The deadly impact of influenza in Gippsland
Posted: Tuesday 8 October 2019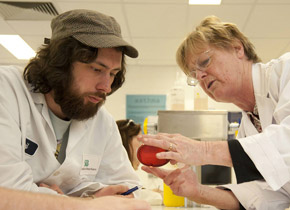 Historical research on the impact of the great influenza pandemic of 1919 in Gippsland, and why this could possibly be repeated in the future, will be revealed at a public seminar in Traralgon this week.
Presented by Federation University and the Traralgon Neighbourhood Learning House, the event will feature influenza expert Dr Alan Hampson AOM and historian Professor Erik Eklund.
The pair will discuss both the latest research in prevention and control of influenza and why we continue to suffer yearly epidemics, as well as a look back at the deadly pandemic that afflicted the globe in 1918-1919, in particular the impact on Gippsland.
Influenza vaccination has strong links to Gippsland. Sir Frank Macfarlane Burnet, who was born above the Colonial Bank of Australia in Traralgon in 1899, developed the methods used to isolate influenza viruses in chicken eggs and then grow them in sufficient quantity for vaccine manufacture.
Professor Erik Eklund is an award winning historian and Director of the Centre for Gippsland Studies. He has held positions at the University of Newcastle, Monash University and as the Keith Cameron Chair in Australian History at University College, Dublin.
Dr Alan Hampson AOM is an adjunct Senior Research Fellow and virologist with 50 years of experience working with influenza. He has worked with the World Health Organization (WHO) and the Federal Government, and was the first Editor in Chief of the International Journal Influenza and Other Respiratory Viruses.
The public seminar will be held in the VRI Hall, Queens Parade, Traralgon, on Thursday, 10 October, from 6:30 to 8:30 pm.
Quotes attributable to Professor Erik Eklund
"Influenza has been one of the most deadly communicable diseases over the past hundred years."
"The public seminar will not only cover the past outbreaks of the disease but also discuss possible initiatives and medical advances that could help stop future epidemics."
Quotes attributable to Dr Alan Hampson
"You will hear about the impact of one of the most deadly plagues in history, how it impacted on our forefathers, how it might happen again in the future, and whether you would survive!"
"There will be plenty of time for any questions and comments that you have, and the presenters look forward to a lively interaction with the audience."