Media releases
FedUni Brisbane Campus announces business and information technology programs
Posted: Tuesday 21 August 2018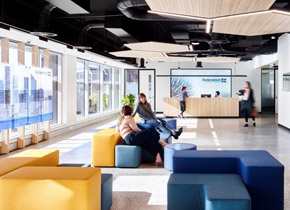 Federation University Australia's award-winning Brisbane Campus continues to expand, now offering a suite of business and information technology programs at both undergraduate and postgraduate level.
"The unique industry integrated programs at our Campus provide students with the opportunity to gain real industry preparation whilst studying," Alex Elibank Murray, FedUni Brisbane Executive Director, said.
"The Campus continues its employability commitment offering all eligible FedUni Brisbane graduates a free Professional Internship Program at no extra cost.
"This Program can kick-start career paths with online work-readiness modules and a professional internship that will improve employability prospects," Ms Elibank Murray said.
"Alternatively, students may prefer to undertake a professional career development program combining formal learning and an Australian internship placement."
The Professional Year Program partnership allows the campus to offer the Australian Computer Society (ACS) Professional Year Program, Engineers Australia's Professional Year in Engineering and Skilled Migration Internship Program - Accounting (SMIPA) in seven locations nationwide.
Located at 333 Ann Street, Brisbane, the award-winning $6 million FedUni campus now offers the following programs to international students.
Business
Bachelor of Business
Bachelor of Business (Entrepreneurship)
Bachelor of Business (Human Resource Management)
Bachelor of Business (Management)
Bachelor of Business (Marketing)
Bachelor of Business (Management & Marketing)
Bachelor of Business (Management & Human Resource Management)
Bachelor of Business (Marketing & Human Resource Management)
Bachelor of Business (Marketing and Information Technology)
Bachelor of Commerce
Bachelor of Commerce (Accounting)
Bachelor of Commerce (Accounting and IT)
Bachelor of Commerce (Economics and Finance)
Bachelor of Commerce (Accounting, Economics and Finance)
Master of Business Administration (Health Services Management)
Master of Business Administration
Master of Professional Accounting
Information Technology
Bachelor of Information Technology
Master of Technology (Enterprise Systems and Business Analytics)
Master of Technology (Software Engineering)
Media enquiries: Matthew Freeman 5327 9510, 0408 519 674