Media releases
Satisfaction survey launched for VET students
Posted: Tuesday 17 April 2018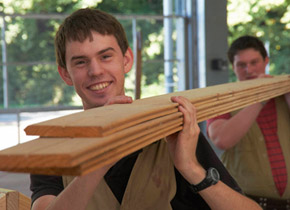 How has your VET program helped you achieve your goals? This is the question the Victorian Government is asking around 200,000 students in the annual Student Satisfaction Survey.
Students who completed or exited any government-subsidised VET courses provided by registered training providers in 2017 have been sent a survey to complete online, via SMS or by mail.
The survey takes under 10 minutes to complete and asks students to share their views on a range of topics including teaching quality, relevance of skills learnt and how training has helped in achieving their goals.
Results from the survey provide valuable insights for course improvements and planning to better meet the needs of future students and deliver qualifications that lead to employment opportunities, not just certificates.
"We really want students who undertook training at FedUni TAFE to provide feedback about their training experience to help us make our university an even better place to learn," Barry Wright, Executive Director of FedUni TAFE, said.
Giving students a voice in the future of training is a Victorian Government commitment through its training reform program, Skills First.
There is also a range of information and resources to help students access the right training for them at the Skills First website www.eductaion.vic.gov.au/skillsfirst