Media releases
FedUni to co-host international teacher education conference
Posted: Friday 23 February 2018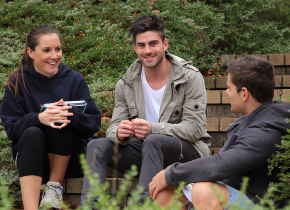 The World Federation of Associations for Teacher Education (WFATE) will hold its fifth biennial conference in Melbourne from 9 to 11 July.
Federation University Australia, as conference host, is partnering with three other Victorian-based universities - Deakin University, Australian Catholic University and Victoria University - in the planning of this event, which will be held at the ACU Melbourne Campus.
This is the first time the conference will be held in Australia. Previous conferences have been held in Spain, China, Nigeria and the United States of America.
Conference convenor, Associate Professor Jenene Burke from FedUni, stated that so far the conference had attracted submissions from educators from 15 countries.
"This conference will provide a unique opportunity for Australian teacher educators to meet up with their international counterparts right here in Melbourne," Associate Professor Burke said.
"The final day of the conference has been designated as Higher Degree and Education Student Day. Teacher Education students are particularly encouraged to attend on that day, and to present research posters to share their work with their colleagues.
"The three major teacher education conferences are taking place in Melbourne over an eight-day period."
The Australian Teacher Education Association (ATEA) annual conference will partner with the Teacher Education Forum of Aotearoa New Zealand (TEFANZ).
The WFATE 2018 conference team is working closely with the ATEA/TEFANZ conference committee to ensure a seamless teacher education conference experience over the period from 4 to 11 July.
Submissions for presentations are still open for those interested in presenting at the conference. Registrations and conference information can be accessed on the event website at https://federation.edu.au/wfate-conference-2018
Details and contacts:
* World Federation of Associations for Teacher Education (WFATE) Fifth Biennial Conference: Transformative Teacher Education in Local and Global Contexts, 9 – 11 July 2018 https://federation.edu.au/wfate2018
* World Federation of Associations for Teacher Education (WFATE) http://www.worldfate.org/
* ATEA/TEFANZ conference: 'Teacher Education In and For Uncertain Times', 4 – 6 July 2018 https://atea.edu.au/conference/upcoming-conference/