Media releases
New scholarships announced for Bachelor of Business students
Posted: Monday 12 February 2018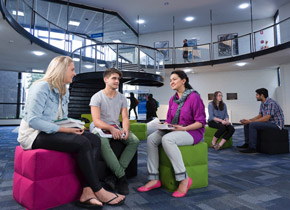 Federation Business School is delighted to announce that applications are open for the new IBM / Bachelor of Business 2018 scholarship program.
Valued at $35,500 over the duration of the degree, the scholarships will provide successful applicants with an internship in the IBM Ballarat project management team as part of their three-year Bachelor of Business study program.
"This is a remarkable opportunity for either a school leaver or someone wanting to retrain in business to be involved with one of the world's leading multinational organisations," Dr Adam Baker of Federation Business School said.
Federation Business School and IBM have had a long-standing professional partnership focusing on industry innovation and student development through Work Integrated Learning initiatives.
These new scholarships formally recognise this partnership and the growing importance of professional practice within a business degree.
Business majors of Marketing, Management or Human Resource Management are available within the IBM / Bachelor of Business scholarship program.
"The successful applicants will have the unique opportunity to build their CV and be mentored by business professionals at IBM during the course of their Bachelor of Business degree," Dr Baker said.
For further information please contact Dr Adam Baker at a.baker@federation.edu.au or call 03 5327 9416