Media releases
New cabaret acts unveiled at Arts Academy
Posted: Thursday 15 June 2017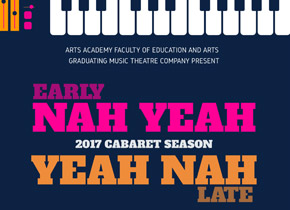 A season of new and devised cabaret works, created by the Graduating Music Theatre Company of the Arts Academy at Federation University Australia, will open in Ballarat and Melbourne later this month.
Nah, Yeah; Yeah, Nah, is under the direction of renowned entertainer, broadcaster and writer Fiona Scott Norman and music director Rainer Pollard.
The project challenges the Music Theatre students to devise and write their own personal cabaret works.
"These performers were triple-threats anyway, now they've added comedy, satire, and original story-telling to the mix. Entertainment is guaranteed," Bryce Ives, Arts Academy Director, said.
The season of works explore politics and anger, metal and country music, being Aussie and being an immigrant, blues and indie rock, contemporary dance and burlesque, drinking culture, irritable bowel syndrome, a fear of velvet and why the word 'bitch' needs reclaiming.
"Nah, Yeah; Yeah, Nah is about as Australian as it gets. Deadpan, non-committal, and never entirely agreeing with anything because authority can get rooted, am I right?" director Fiona Scott-Norman said.
"It is also the over-arching title for the 2017 Music Theatre Cabarets, because if you ask anyone to pin down a theme for 36 unique expressions of the cabaret sensibility, they're going to say "Yeah, nah".
Music director Rainer Pollard said the process had been a pleasure.
""What a creative, brave, and skilled cohort this is. Their individual cabarets are clever, original, and so diverse," Rainer Pollard said.
Prepare to be seduced, moved, and fall in love through our six show cabaret season.
Please be warned, Nah, Yeah; Yeah, Nah contains coarse language, sexual references, adult themes, drug references, strong opinions and emotions.
TUESDAY & FRIDAY NIGHTS:
FIRST SET: Jordyn Bartolo, Morgan Dooley-Axup, Daisy-Rose Coppola, Madeline McKibben, Justin Dohrman & Mollie Prendergast.
SECOND SET: Jenna Verryn, Anthony Miscamble, Hannah O'Connell, Elise Lewis, Laura Morrisby & Beau Schoenmaker.
WEDNESDAY & SATURDAY NIGHTS:
FIRST SET: Jonathan Reeves, Antoinette Davis, Leah Delaland, Sarah Hunter, Molly Fry & Chloe Rollond.
SECOND SET: Ebony McGeady, Hayley Noy, Jolan Walker, Jamie Boiskin, Callum Jarrott & Claire Taylor.
THURSDAY & SUNDAY NIGHTS:
FIRST SET: Joanna Bakker, Louise Cumming, Madeline Pratt, Jonathon Shilling, Isabella Ferrer & Claire Vandali.
SECOND SET: Sam Coats, Annie Parish, Daniel Agar, Alice Albon, Tori McCann & Billy Sloane.
Suttons House of Music – 31 Sturt Street, Ballarat
Tues 20 – Sun 25 June
First Set – 7.30pm, Second Set 9.15pm
www.suttonshouseofmusic.com.au
Hares & Hyenas – 63 Johnston Street, Fitzroy
Tues 27 June – Sun 2 July
First Set – 7.00pm, Second Set 8.45pm
www.trybooking.com (keyword: HARES)
Adult - $30
Concession - $20
FedUni Student - $10