Media releases
Ballarat students receive taste of FedUni TAFE programs
Posted: Wednesday 14 June 2017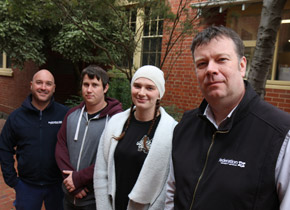 More than 100 unemployed young people have enjoyed a series of 'A Day In The Life' information sessions by qualified trades people and employers at Federation University Australia's SMB Campus in Ballarat.
Experts in Community Services, Automotive, Engineering, Electrical, Plumbing, Painting, Building, Construction and Children's Services were on hand to introduce the trades to the potential students.
Jobseekers undertaking the newly created Employability Skills Training as part of the federally funded Youth Jobs PaTH program attended these session gaining a valuable insight into industry engagement experiences.
Arranged through FedTAFE's Skills and Jobs Centre, the successful program was very popular with the students.
"Our aim was to give prospective students and employees the ability to liaise with employers and trades people when they are applying for a job," Brad Smith, Training and Employment Advisor, Skills and Jobs Centre, said.
"The students were able to get a real world perspective of what the role requirements are, what the employers expectations are and the benefits of working within the trades.
"It was a great opportunity for all of the students. We also want to thank all of the trades people and employers and employers who gave up their time to help the students."
The participating employers and FedUni staff in the program were Wayne Squire from Plinius Engineering; Phil Kolaric from Spanners & Sparks Automotive; Darren Cleeman; Heath Boyd; Larelle Kuczer; Maree Ryan; Glenn Sandford; Peter Schreiner; Luke Morris and Graeme Dukes.
"Sitting in personally on the Engineering session I found this a great initiative that enabled jobseekers to engage first hand with industry experts to gain a better understanding of the chosen industry," Wayne Robertson, Westvic Staffing Solutions Chief Operating Officer, said.
"FedUni needs to be commended on this initiative."