Media releases
FedUni research assists Horsham youth engagement
Posted: Tuesday 30 May 2017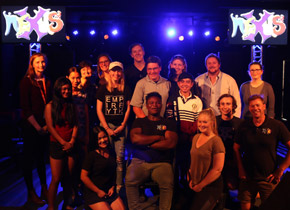 Federation University Australia's Centre for eResearch and Digital Innovation (CeRDI) is working with Horsham Rural City Council in an attempt to shift cultural norms in the consumption of alcohol by young people.
"Our researchers undertook a pilot study in the Horsham region to identify strategies to promote responsible consumption of alcohol by young people in the region," Dr Angela Murphy, Senior Research Fellow with CeRDI, said.
"Findings from this research provided the foundation for another funding submission to VicHealth to conduct stage two of the project.
"The multidimensional approach will include three streams which target community norms," Dr Murphy said.
"These streams include building knowledge, awareness and capacity, an integrated education program for parents and young people, and a social marketing campaign to counter current perceived norms and provide alternative choices for young people."
Funding from VicHealth has been secured as part of a $3.1m VicHealth initiative with FedUni to partner with the Horsham Rural City on the Rural Youth Action – Challenging Alcohol Norms (RyACAN) project.
The project involves the participation of children from the region aged 12 to 18 plus their parents. It includes a parent education program using mediums of theatre, art and music, a parent support network, a community awareness campaign and a range of binge drinking deterrent activities.
The initiative recognises that the 'one size fits all' approach does not address the diverse drinking cultures within the Victorian community, and have funded targeted programs in the hope that this will have a greater impact.