Media releases
Construction work commences on Ballarat Tech School
Posted: Friday 26 May 2017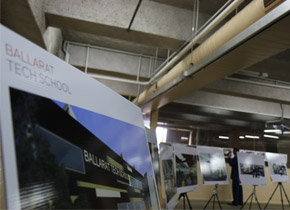 Work on the new Ballarat Tech School has commenced following the announcement of a builder for the project.
Ballarat-based firm Nicholson Construction will be the builders for the Tech School, which is due to open in early 2018.
To celebrate the announcement local Victorian Members of Parliament Geoff Howard and Sharon Knight have launched the demolition of a section of the old Building K.
A sledgehammer was on hand to commence destruction of a wall panel in the old building. The Albert Street building will be re-fitted and modernised to create the new Ballarat Tech School.
The School will be a partnership between the University, government, Catholic and independent schools; and industry partners.
"The new Tech School will deliver educational programs in the emerging industries of information technology, new energy technologies, health science, food and fibre, and advanced manufacturing, and will support young people in their career aspirations," Sofia Fiusco, incoming Director of the School, said.
"The School will be a fabulous addition to education in Ballarat. Construction will include a significant upgrade of the interior to provide a stimulating environment for education and training."
The Ballarat Tech School will be one of ten such schools to be established throughout Victoria.