Media releases
New musicals on the agenda at FedUni Arts Academy
Posted: Thursday 18 May 2017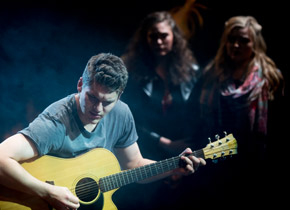 The Arts Academy at Federation University Australia will present an invigorating season of new musical theatre works.
The Second Year Music Theatre Company present Magpie and The Spirit Level or The Strange Case of Agatha Banks, both original musical theatre works in development.
Recent Arts Academy alumni also will present a new musical for children, The Mystery of Captain Moonlite, to premiere as part of Ballarat Heritage Weekend.
Bryce Ives, Federation University Australia's Director of the Arts Academy & Gippsland Centre of Arts and Design, said the season demonstrated the university's unique commitment to Australian storytelling, providing FedUni students and alumni with the chance to develop new works, and allowing local audiences to engage in contemporary storytelling.
"Creating new work is the greatest challenge for writers, performers and theatre-makers – and in that challenge lies the potential, not only for wonderful theatre - but for new research and discoveries – that benefit the whole industry," Mr Ives said.
"Australian performers and theatre-makers are constantly asked to replicate the work of other countries – but we lack the arena in which to create and perform – and develop the skills necessary – to produce our own music theatre.
"Our commitment to the development of new musical theatre work is unparalleled by any other institution, locally or nationally," Mr Ives said.
"To create musicals written and performed by Australians we need an environment that values innovation, pedagogy, research, process, and capacity building for our future."
Dr. Richard Chew, acting program leader of Music Theatre, said the University's Arts Academy was in a unique position to fill this void and reap the rewards.
"Arts Academy students and alumni are collaborating with renowned industry professionals including Rufus Norris, Anthony Crowley, Sara Grenfell, Michael Griffith and Dallas Rayner," Dr Chew said.
The season features three major works:
Magpie, opens at the Helen MacPherson Smith Theatre on Thursday 18 May
The Spirit Level or The Strange Case of Agatha Banks, opens at Her Majesty's Theatre as part of Ballarat Heritage Weekend on Saturday 27 May
The Mystery of Captain Moonlite, opens at the Minerva Room at the Ballarat Mechanics Institute as part of Ballarat Heritage Weekend Saturday on 27 May
Magpie
Writer Michael Griffith
Composer Dallas Rayner
Performed by Second Year Music Theatre Company of the Arts Academy
Director Sara Grenfell
Musical Director Alistair Smith
Magpie, set in Melbourne, is written by tram driver and aspiring playwright Michael Griffith.
Eight years ago Griffith kept passing this old homeless man in Kew. The man wore several layers of grubby red clothes. To Michael he looked like a character from an Opera.
Then, when the choir of hard-knocks premiered Michael realised that if someone rich wanted to join them they would have to pretend to be homeless, and to do that they would need an instructor. Or rather, he realised, this was 'My Fair Lady' backwards.
He could see it all and knew immediately that it was a musical. Trouble was, he'd never written a song and he couldn't play an instrument, and because his children were still young, his family were surviving on a single income so even if he did possess the skills, he didn't have the time to write a musical. So he decided to follow his head's advice, and ignore it. But the story was too strong and he finally gave in and began writing.
Working with music teacher Dallas Rayner, the pair have secretly laboured over the piece through a development at Carlton's La Mama Theatre and now at Federation University's Arts Academy.
"Magpie could be set anywhere in the world, for its themes are currently both universal and old. It's a story celebrating the strength of love, then that will be thanks to the perch it was offered by this special University, who allowed Sara Grenfell, Magpie's determined director to harness the talent and commitment of this gorgeous group of vibrant students," Michael Griffith said.
"Creating a new work of theatre can be at times frustrating and arduous, but ultimately a rewarding and exciting experience. The second year musical theatre students have embraced the project that is Magpie completely.
"It has provided a unique opportunity to immerse themselves in a real Australia story that is also universal. They have created real people/ characters that they can identify with. Working with the writer has given the Actors a real insight as to how a piece is put together in order to help facilitate and realise the writer's vision. This is a collaborative process. It has been an invaluable experience for the students, they have learnt so much," says director Sara Grenfell.
When:
Thursday 18 May 7.30pm
Friday 19 May 7.30pm
Saturday 20 May 2.00pm
Saturday 20 May 7.30pm
Location: Arts Academy, Camp St, Helen McPherson Smith Theatre
Bookings: https://federation.edu.au/faculties-and-schools/faculty-of-education-and-arts/events
The Spirit Level or The Strange Case of Agatha Banks
Librettist Rufus Norris
Composer Richard Chew
Performed by Second Year Music Theatre Company of the Arts Academy
Director Anthony Crowley
Musical Director Richard Chew
A free performance, as part of Ballarat Heritage Weekend
The Spirit Level or The Strange Case of Agatha Banks is a new music theatre work by Australian composer Richard Chew and English Librettist – Rufus Norris.
Originally commissioned by English National Opera, this will be the first production of the work in Australia, and marks the next phase of its development after a first performance in the UK.
"This production at Her Majesty's Theatre, Ballarat as part of Ballarat Heritage Weekend, gives students the unique opportunity to work with the composer to develop their craft on a contemporary opera, relevant to times and to the young people involved," director Anthony Crowley said.
It allows the composer time to develop the work further – and initiates international relationships that enrich the creation of new Australian writing – further developing the arts practice of Australian directors and theatre-makers."
The Spirit Level is an opera in one act and 13 scenes. It tells the story of Agatha Banks, a Victorian woman, a wife and mother, who is committed to a mental asylum by her husband William when he discovers that she has been taking part in covert Spiritualist meetings with her female friends.
The piece was commissioned by English National Opera, for their youth company The Knack. It bucks the trend of many 19th century period dramas in that there are 21 women in the cast and only three men. The Spirit Level is by turns surreal, comic and deadly serious.
"The great epidemics of middle-class Victorian women were depression, substance abuse (usually alcohol) and boredom, all fuelled by the ludicrous social and educational restrictions of the time," librettist Rufus Norris said.
"Spiritualism, ignored by men as harmless fun, provided a popular and welcome distraction for many women, and the lunatic asylum awaited others who had no such release".
The Spirit Level is based loosely on the case of Louisa Lowe, who appeared before a Parliamentary select committee in 1887, claiming that she had been wrongfully incarcerated in a lunatic asylum by her husband, for being a Spiritualist
When: Saturday 27 May, 10am & 3pm, Sunday 28 May, 10am & 3pm
Location: Her Majesty's Theatre
Bookings: Free performance, as part of Ballarat Heritage Weekend 2017
The Mystery of Captain Moonlite
Family Theatre Performance
Created and performed by: Casey Binks, Oliver Cowen, Eidann Glover, Kayla Hamill and David McNamara
A new musical work created by Federation University Arts Academy alumni, The Mystery of Captain Moonlite delves into the life and crimes of charismatic bushranger Captain Moonlite.
Imprisoned in Ballarat Gaol for various nefarious deeds including robbery, theft, stealing, obtaining money without consent, and jaywalking, Andrew G. Scott - under the self-styled pseudonym Captain Moonlite - hatched a daring escape plan in the freezing Ballarat winter of 1872.
With his motley crew of fellow convicts, Moonlite engineered one of the only successful escapes from the prison. The escapees would go on to politely terrorise regional Victoria (often being mistaken for the rival Kelly Gang), with their bizarre and farcical deeds securing Captain Moonlite's place in history as the region's most outlandish outlaw.
Using original music created for the piece, five figures emerge from the mists of time to tell the story of their exchanges with the 'notorious brigand'.
Weaving together fact and fiction, verbatim statements from Moonlite's contemporaries are peppered throughout lively songs and wacky dance numbers for all ages to enjoy.
"While researching mysteries in and around Ballarat, we came across the story of Captain Moonlite's escape and immediately fell in love with this incredible vagabond," co-creator Eidann Glover said.
"It seemed strange to me that I'd never heard of such an interesting historical figure, especially seeing as he was from right here in regional Victoria. He had such a unique personality and seemed like such a powerful character, we were really attracted to the idea of telling his story in a fun and engaging way."
The Mystery of Captain Moonlite is a musical and physical romp for the whole family. Come along for a fun adventure, and learn a little bit about one of Victoria's hidden nuggets of history.
When: Saturday 27 May, 11am, Sunday 28 May, 11am
Location: Ballarat Mechanics Institute, Minerva Room
Bookings: Free performance, as part of Ballarat Heritage Weekend 2017