Media releases
Ballarat's best young tradies to compete for gold at WorldSkills Competition
Posted: Friday 5 August 2022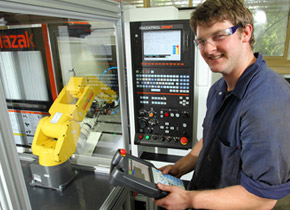 Apprentices and trainees from Ballarat and the Wimmera will compete to be Australia's best young tradesperson when Federation TAFE hosts the WorldSkills Regional Competition in August and September.
Local students, apprentices and trainees will showcase their skills and compete for gold in welding, hairdressing, bricklaying, automotive, fitting and turning, and cabinet making.
Federation TAFE student, Jonah Moloney Wise will compete in welding this year at Federation TAFE in Ballarat on 22 August. The 18-year-old is undertaking a Certificate III in Light Fabrication.
WorldSkills aims to promote and provide recognition for skills and trades by challenging young people, trainers, and employers to achieve international competency standards in trade industries.
Find out more about WorldSkills https://www.worldskills.org.au/
Quotes attributable to Federation University Pro Vice-Chancellor (Vocational Education and Training) and CEO TAFE, Liam Sloan
"The WorldSkills Regional Competition is a fantastic opportunity for our talented local competitors to test their skills against some of the best in a range of vocational areas."
"WorldSkills is a real collaboration between TAFE, industry partners and students to showcase and highlight talent in these in-demand industries."
Quotes attributable to Federation TAFE Director Operations and Chair of the Ballarat WorldSkills Committee, Darren Gray
"The Ballarat and Wimmera region has a proud history at national and international WorldSkills competitions, with strong local representation and medal success over more than 35 years."
"The support from our brilliant teachers, mentors and industry partners is the key to success on the national stage."
Quotes attributable to Federation TAFE student, Jonah Moloney-Wise
"I am preparing by doing lots of hours of training and practising to assist in the competition."
"It takes lots of dedication and excitement for the competition, but it's a great opportunity to further yourself."
"The course gives me a real-world practical skill that will give me much higher job security and a far more diverse and interesting line of work."