Media releases
Federation partners with EY and Government to deliver up to 200 new jobs for Ballarat
Posted: Friday 13 May 2022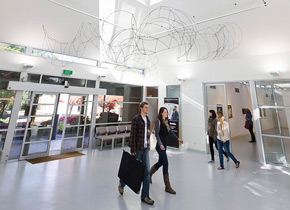 Federation University Australia together with Ernst & Young (EY) and the Victorian Government have teamed up to deliver up to 200 new jobs over the next three years.
The new EY Nearshore Delivery Centre to be located in the Federation University Ballarat Tech Park will service clients in Australia and across the wider APAC region.
The new centre to initially deliver high-quality business support services in the financial sector was announced today by Victorian Treasurer and Minister for Economic Development The Hon. Tim Pallas MP.
The opportunity to partner with Federation to attract quality job candidates and trainees was pivotal in enticing EY to the region, as was Ballarat's proven capability demonstrated through Federation's technology park model. Through the partnership, Federation can assist EY with student placements and workforce development opportunities, and potentially research opportunities in the longer term.
The announcement is a further expansion of Federation's successful technology park model, which hosts over 2,000 private-sector jobs, generating over $700 million of annual economic activity. The EY Nearshore Delivery Centre will initially be in the tech park's Global Innovation Centre with future plans to expand into other nearby sites.
Quotes attributable to Federation University Vice-Chancellor and President, Professor Duncan Bentley
"This exciting partnership with EY and the Victorian Government will see us working together to deliver up to 200 jobs - significantly boosting economic activity in the Ballarat region."
"We will work closely with EY to help them to continue to build their vision for Ballarat and will ensure that they have a pipeline of high-quality graduates capable of meeting their workforce needs in future years."
"As Victoria's premier regional university, we are building long-term partnerships with big multi-nationals, like IBM and EY, to deliver high-quality skills and jobs in the regions we serve."
Quote attributable to EY Partner and Project Lead Daniel Wong
"We recognised this as an opportunity to invest in regional Australia, and the Ballarat Technology Park provides us with a great location, proximity to Federation University and access to a robust talent pool."
Quote attributable to Victorian Treasurer and Minister for Economic Development Tim Pallas
"Investments like this show that regional Victoria is a great place to do business and a terrific source of talent. We'll keep creating the conditions that allow businesses such as EY to expand and put on new workers because it supports local communities and has flow-on benefits for the wider economy."