Media releases
Cadetship program to help boost East Gippsland's allied health workforce
Posted: Tuesday 14 December 2021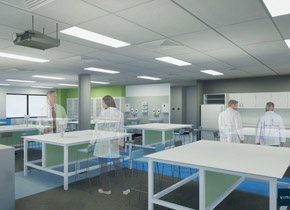 Occupational therapy students will have the chance to get paid industry experience in East Gippsland while they study, as part of a cadetship program launched by Gippsland Lakes Complete Health (GLCH) and Federation University Australia.
Students wanting to study a Bachelor of Occupational Therapy (Honours) at Federation University's Gippsland Campus in 2022 are being invited to apply for the cadetship with GLCH, which can culminate in two years of paid work once they graduate.
Occupational therapists help children and adults of all ages whose disability or age-related health decline makes it hard for them to do everyday tasks.
While they study, students will be provided with $500 by GLCH per semester for the whole four-year degree, along with coaching support from occupational therapists and printing and internet access at GLCH.
Students will be able to undertake volunteer experience with the health service in the first two years of the degree and in the third and fourth years undertake paid work as an allied health assistant outside semester time.
Federation launched its occupational therapy degree in 2020 in response to the increasing local demand for allied health workers across Gippsland.
The number of occupational therapists in Gippsland is projected to grow from 150 in 2016 to 212 by 2036, according to the 2019 Gippsland's Future Health and Community Services Workforce report.
There are three occupational therapy cadetships on offer for 2022. The program will be expanded to include physiotherapy in 2023 and speech pathology in 2024.
Those wanting to apply for the cadetship can contact Human Resources at Gippsland Lakes Complete Health on 5155 8300.
Quotes attributable to Federation University Gippsland Head of Campus, Ms Leigh Kennedy
"Federation University is working with industry to drive economic growth and address local workforce skills shortages across Gippsland."
"We know the majority of our graduates who train locally, stay local and by partnering with GLCH we can support students to maintain ties to their local community and receive the mentoring and practical training they need to graduate job-ready."
Quotes attributable to Gippsland Lakes Complete Health Executive Manager of Corporate Services, Ms Rebecca Woodland
"Health is an industry with strong current and projected demand. Providing local students with financial and employment support to complete tertiary study and become qualified health professionals benefits the students, Gippsland Lakes Complete Health, and the wider Gippsland community."
"GLCH is providing local students with financial support to assist them with their university training, and employment opportunities to enable them to translate their learning into practice with a health industry leader in Gippsland Lakes Complete Health. This combines to create a strong foundation for a long and successful career in the health industry."