Media releases
Students to help cycling fans test their fitness against world's best
Posted: Tuesday 23 November 2021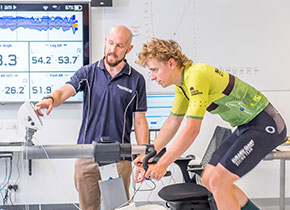 A team of students from Federation University Australia will take a leading role in helping enrich the fan experience at the 2022 Federation University Road National Championships in Ballarat.
The Bachelor of Exercise and Sports Science undergraduate students will give spectators the chance to test their physical capabilities against the world's elite at the activation centres that Federation runs throughout race week.
Following the completion of a pre-exercise screening process, spectators will be invited to participate in athlete tests such as the six second watt bike power test and the isometric mid-thigh pull strength test. The data allows them to then compare their results with the elite riders that they are watching race at the event.
Federation students will also learn about the marketing of a major event such as the Road Nationals and assist with production of the television vignettes that feature during live coverage.
The 2022 Federation University Road National Championships will be held from 12-16 January and will feature Australia's best cyclists contest across the categories of elite, under 23, under 19, para, masters, club, intellectual impairment, and deaf cycling.
For 2022 Federation University Road National Championships information, visit the official website at https://www.roadnationals.org.au
Federation's sports programs include exercise and sport science and clinical exercise physiology, strength and conditioning, and sport management.
The University's sport science discipline is ranked in the top 100 of sport science schools and departments in the world, under the Academic Ranking of World Universities.
Quotes attributable to Professor Dara Twomey, Dean, Federation University Australia's School of Science, Psychology and Sport
"The Federation University Road National Championships is a major highlight for our region, and we are so proud to support this fantastic event and once again host the time trial at our Mount Helen campus."
"We bring a world-class reputation for sport science to our partnership with AusCycling and look forward to continuing this collaboration for the benefit of students, the sport of cycling and the broader community."
Quotes attributable to Exercise and Sports Science Work Integrated Learning Co-ordinator, Lindy Hall
"This event provides a great opportunity for our students to gain practical industry experience with the bonus of having their lecturers as supervisors there to assist.
"Students will be able to link their university studies to real-life situations while developing key professional employability attributes."