Media releases
Federation debuts Australian premiere of UK musical Made in Dagenham
Posted: Wednesday 13 October 2021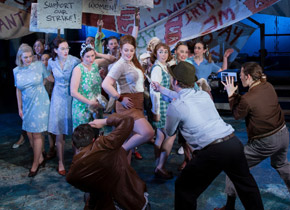 Federation University Arts Academy students will deliver a powerhouse performance of the UK musical Made in Dagenham in an Australian premiere this weekend.
Performed by graduating third-year performing arts students who have overcome two years of the global pandemic to deliver the musical, a pre-recorded video of the show will be streamed to Aussie audiences to comply with COVID-19 restrictions.
Made in Dagenham is based on the true story of the women machinists who stood up to the mighty Ford Motor Company in 1968.
Set in Dagenham, Essex, Rita O'Grady is an ordinary mother trying to hold everything together including her marriage, family, and her job. When it is announced that the women in the sewing room of Ford's Dagenham car plant will have their pay downgraded to "unskilled", her life is suddenly changed forever.
Directed by award-winning playwright and composer Anthony Crowley, and featuring the 2021 graduating Bachelor of Performing Arts Company, Made in Dagenham is an uplifting new musical about friendship, love and the importance of fighting for what is right.
The show will be streamed over two nights this Friday, 15th and Saturday 16th October at 7.30pm.
Register to see the streamed performance: https://www.eventbrite.com.au/e/made-in-dagenham-livestream-tickets-187916983757
Quotes attributable to Federation University Arts Academy Director, Associate Professor Richard Chew:
"Our graduating company of 2021 are some of the most skilled young artists the Arts Academy has produced. They have persevered through the challenges of 2020/21, honing their craft throughout the pandemic."
"Their commitment to their studies and each other is inspiring. Much like the formidable women from Dagenham."
Quotes attributable to Director Anthony Crowley
"Though the characters in the show are fictional, they are inspired by the real women behind the strike. This company of graduating actors have delved deeply into the lives of these women and men, their socio-political history, their environment, and their work."
"Through this work, the work of an actor, they shed light on what it means to stand up for your rights, to say, "no more". This is about respect – and to hold your ground while under enormous pressure."
Quotes attributable to Arts student Emily McDougall
"For me, being able to participate in Made in Dagenham was an incredibly rewarding and special experience, as this production provided our cohort with a wonderful opportunity to bring the stories and experiences of the women of Ford Dagenham to life."
"I feel so privileged to have played a role in sharing these important and relevant narratives with a wider audience. I am incredibly proud of the cast and crew for persevering throughout the process to deliver the end product we are presenting today."