Media releases
Disrupting business - Federation University and IBM collaborate on a new Australian-first degree
Posted: Tuesday 3 August 2021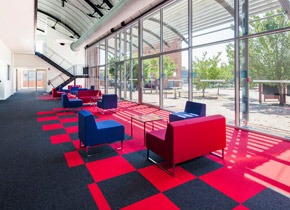 Federation University Australia and global technology company IBM have collaborated to launch Australia's first degree in Cognitive Enterprise.
A Cognitive Enterprise is a business that uses disruptive technologies like artificial intelligence (AI), automation, blockchain technology (which supports cryptocurrency) and 5G to transform and innovate.
Just like these technologies are transforming business – the Bachelor of Cognitive Enterprise is transforming the business degree.
The program content has been developed in collaboration with IBM. Students will be able to gain real-world experience through internships and earn IBM Digital Badges (certifications) in blockchain technology and AI.
The new degree focuses on how disruptive technologies can be used to innovate across all areas of business – from marketing, IT, management, banking and finance, to social and environmental sciences.
As well as the new Bachelor of Cognitive Enterprise, Federation University will offer the Bachelor of Cognitive Enterprise (Professional Practice), which gives students an additional full year of paid work experience during their degree.
The IBM collaboration reflects Federation University's focus on partnering with industry to ensure graduates have the skills employers need, with co-designed courses and work experience embedded in Federation University degrees.
Both degrees will begin in 2022 and will be offered at the university's Ballarat, Berwick, Brisbane and Gippsland campuses, as well as online.
As part of the launch, secondary school students in Ballarat, Berwick, Brisbane and Gippsland will have the chance to take part in Cognitive Enterprise boot camps.
Teams of Year 11 and 12 students will be challenged to develop creative ideas that add value to an everyday object by combining it with technology.
The winning team members will each win a $3,000 scholarship towards their first year of study of the new Bachelor of Cognitive Enterprise degree at Federation University.
Quotes attributable to Vice-Chancellor and President, Professor Duncan Bentley
"By collaborating with IBM we can offer students real-world experience in a global tech company, with IBM digital certifications embedded in their degree. Students will graduate job-ready with digital skills that will allow them to innovate in any business they work in."
"We're increasingly focussed on co-designing courses with industry and offering work experience in every degree – this IBM partnership is a great example of Federation University's vision to be Australia's leading co-op university.
Quotes attributable to IBM Australia & New Zealand, Country Managing Director, Katrina Troughton
"As Australia accelerates towards a digital future, we are seeing the need for a shift in the leadership acumen required by future organisations."
"Technology is transforming the business models of enterprises across the globe, creating new opportunities for growth and fresh benchmarks of efficiency. The ability to apply AI, automation, blockchain, the Internet of Things, 5G, cloud, and quantum computing at scale has made the promise of the Cognitive Enterprise real. Next-generation business models will transform the way companies innovate and do business. Organisations, therefore, will need a new type of leader."
"IBM is committed to helping Australia address future skills deficiencies as organisations transform into AI-driven, cognitive enterprises. These specialised degrees are one of the ways IBM is doing that. Together with Federation University, we are thrilled to help build a solid path for future leaders to learn how to lead effectively at the intersection of technology innovation and business strategy."
Quotes attributable to Dean of the Federation Business School, Professor Christina Lee
"The future is digital and we need to prepare our workforce. Australia will need an estimated six million more workers with expertise in digital technologies by 2025 – this degree will give our students an advantage and future-proof their careers."
"The Bachelor of Cognitive Enterprise will give students a foundation in blockchain technology and artificial intelligence that can be adapted and strategically applied to any context. It will open doors to careers in marketing, business, analysis, change management, big data, financial institutions and more."