Media releases
New soil research projects to help boost profits for Australian farmers
Posted: Thursday 3 June 2021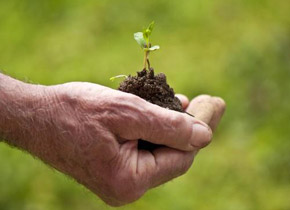 Federation University Australia researchers will lead or support three new projects to help Australian farmers better manage their soil for more profitable and productive farming.
The projects are part of the Cooperative Research Centre for High Performance Soils (Soil CRC). The centre brings together scientists, industry and farmers to find solutions for Australia's underperforming soils, which costs Australian farmers billions of dollars in lost revenue each year.
The Commonwealth Government announced a series of new research projects today, with Federation University's Centre for eResearch and Digital Innovation (CeRDI) either leading or supporting three projects worth $1.55 million.
This includes:
$250,000 in funding for the 'Matching soil performance indicators to farming systems' project. Senior Research Fellow Dr Nathan Robinson will lead the two-year project to work with growers on the kind of information they need about soil properties, health and performance.

$1 million in funding over three years for the 'Visualising Australasia's soils' project. Led by Associate Professor Peter Dahlhaus, the project will map soil data from grower groups, government and agronomists from across Australia and New Zealand. The data will be centralised to make it accessible to researchers who can use it to improve Australian agriculture and farm management.

$300,000 over two years for the 'Knowledge-sharing for good soil stewardship' project to allow researchers, contributors and partners to share their data. The project will be led by Southern Cross University researchers and supported by Federation University's Associate Professor Peter Dahlhaus, Research Fellow Dr Alison Ollerenshaw and Associate Professor Helen Thompson.
Quotes attributable to Deputy Vice-Chancellor Research and Innovation, Professor Chris Hutchison
"Working with industry to commercialise research, boost productivity and create jobs is what drives our research at Federation University."
"This is a great opportunity for Federation researchers to help Australian farmers boost their productivity and their profits, which benefits our regional communities more broadly."
Quotes attributable to CeRDI project leader, Associate Professor Peter Dahlhaus
"This work is so important because soil data is currently kept in a million different places – it could be anywhere from a government website to old soil tests sitting in a shoebox."
"A lot of this data collected through satellite imagery, sensors on tractors and soil moisture probes in paddocks – the big challenge is getting it all together, which is our area of expertise."
Quotes attributable to CeRDI Director, Associate Professor Helen Thompson
"Because we have been working in this data space for a long time, we have the trust of everyone from farming groups to governments and other universities.
"This means we can deliver these kinds of projects that require bringing together huge volumes of data and which can have a significant impact on the profitability of Australia's farming industry."