Media releases
Federation launches new research centre in Gippsland and Ballarat
Posted: Friday 21 May 2021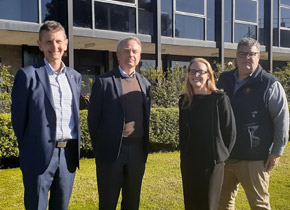 Federation University Australia today launched a new research centre to support regional communities in transition, with the centre co-located at the Gippsland and Ballarat campuses.
The Future Regions Research Centre will work with local industry, government, regional and Indigenous communities to tackle the challenges facing our regions – from transitioning from coal-fired power generation in the Latrobe Valley to helping communities recover from bushfire and drought.
Tackling the big issues facing our regions requires a multi-faceted approach that looks at the economic, social, environmental, heritage and cultural impacts and solutions.
Recognising this, the new centre brings together researchers from across the university to take a holistic approach to helping our regions grow and prosper.
This includes biologists, earth scientists, engineers, environmental scientists and social scientists who will work directly with partner organisations and groups in our regions. The Future Regions Research Centre will focus on:
sustainable land resource management
beneficial future use of disturbed landscapes, including mines
establishing circular economies in the regions
promoting heritage priorities and long-term strategies for sustaining local communities
helping local communities recover from bushfire and drought
Environmental scientist and expert in mine stability and closure, Professor Thomas Baumgartl, will lead the Gippsland centre. Restoration ecologist and natural disaster recovery expert, Professor Singarayer Florentine, and cultural heritage and history expert, Professor Keir Reeves, will both lead the Ballarat centre.
Some of the research areas the new centre will focus on will be showcased to a national audience tonight, with ABC Radio National recording its science podcast, Ockham's Razor, live at Federation's Gippsland campus at 5.30 – 8.00pm to coincide with the new centre's launch.
Establishing the Future Regions Research Centre is part of a new Research and Innovation Strategy, which identifies the key areas the university will focus its research on. This includes health and wellbeing; society and the environment; and virtual, digital and computational environments.
Federation University has two other research centres that support these research priorities. The Health Innovation and Transformation Centre is focussed on improving the health of people living in rural and regional areas, while the Centre for eResearch and Digital Innovation (CeRDI) uses big data and digital platforms to solve environmental, health and economic challenges facing regional communities.
Quotes attributable to Vice-Chancellor and President, Professor Duncan Bentley
"Our regions are facing significant challenges – from climate change and natural disasters, to the transition from coal fired power generation and the impact that has economically and socially."
"It's our role, as Victoria's regional university, to help solve those problems. The Future Regions Research Centre brings together expert research and local knowledge so we can work with local industry, government and the community to help our regions grow."