Media releases
Federation University welcomes the 'start-up year'
Posted: Monday 17 May 2021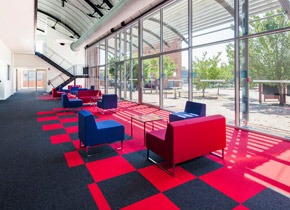 Federation University Australia welcomes the Federal Opposition's focus on driving entrepreneurship and innovation in Australia, as outlined in Opposition Leader Anthony Albanese's budget reply speech on Thursday.
The Opposition's 'Start-up Year' policy would allow 2,000 graduates to participate in university programs or private accelerators to develop their ideas into start-up companies – a model Federation University has already successfully pioneered at its Brisbane Innovation campus and Ballarat Technology Park.
The Opposition's policy would be done through the existing HELP university loan scheme, with accelerator costs up to $11,300 to be covered.
In Brisbane, Federation University are hosted within River City Labs – an incubator for Queensland's tech start-up industry that support entrepreneurs to launch and scale-up business.
The Brisbane Master of Technology students work in start-ups being fostered by River City Labs throughout their degree, setting them up to work in those businesses when they graduate or with the skills to launch their own start-up.
The Brisbane campus has partnerships across Queensland's innovation sector, with students working on start-up ideas including a blind spot detector for bicycles to make road cycling safer, and Safe ID – an ID card and mobile app prototype to minimise the spread of infectious diseases, including Covid-19, in healthcare setting and improve contact tracing methodology.
Federation University has established the same partnership model in Ballarat with Runway, a not-for-profit business incubator that supports entrepreneurs to develop, launch and grow their business.
Federation's Master of Business Administration (MBA) students work directly with Runway throughout their degree to develop and launch a start-up business, with Runway based in the university's Ballarat Technology Park.
The Opposition's focus on entrepreneurship and innovation follows the Federal Government's $1.2 billion budget commitment to a digital economy strategy, which aims to boost digital skills through student cadetships, a competitive scholarship program for graduates in emerging technologies and grants for specific projects that are part of the digital economy strategy.
Federation University welcomes both the Government and Opposition's push to drive entrepreneurship and grow the digital economy in Australia, which supports the work Federation is already doing to drive digital innovation, economic growth and jobs in its regions.
Quotes attributable to Federation University Vice-Chancellor and President, Professor Duncan Bentley
"Our students are already working in start-ups and learning how to launch their own businesses while they study – this is the future of higher education and we're excited to see both the Government and Opposition supporting this."
"Digital technology is transforming our economy and every part of our lives – that's why so much of Federation's research and training is focused on digital and virtual innovation."