Media releases
Performing arts students reclaim 2021 live theatre with original show
Posted: Wednesday 21 April 2021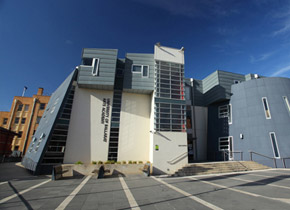 Graduating Federation University third year Bachelor of Performing Arts students have drawn from the extended lockdown of COVID-19 for their exciting new show of original works commencing this Thursday.
The show, Exquisite Corpse, written and performed by the students themselves, is described as a cross-pollination of theatre, cabaret, art and other exquisite stuff, inspired by Boccaccio's masterpiece of plague and resilience, The Decameron.
The original medieval literature from 1348 was a vivid depiction of the bubonic plague outbreak, known as the Black Death.
Original stories have been created, mashed up, refracted or set to music by the talented third years performing arts students, as they reflect on the life and afterlife of the pandemic.
As part of the season launch there will be a Welcome to Country and Smoking Ceremony at 5.20pm this Thursday prior to the show opening and to celebrate the return of students to Federation's city campuses SMB and Camp Street.
The Smoking Ceremony and Welcome to Country will be opened by the University's Vice- Chancellor, Professor Duncan Bentley and Head of Campus Sam Henson.
The Smoking Ceremony will be facilitated by Wadawurrung Aboriginal Corporation in the courtyard off Lydiard Street, with the show taking place in the Helen Macpherson Smith Theatre until 1st May.
Show tickets can be booked here
MEDIA ALERT
Who: Arts Academy Director Richard Chew will talk informally at a Livestream event with part of the creative team responsible for the creation of Exquisite Corpse. Cast members, directors Laura Burzacott and Anthony Crowley, and producer Kim Durban will reveal the details of the process behind the show of original works written and performed by the performing arts students themselves.
When: Wednesday, 21st April, 6pm
Where: streaming live onstage from the Helen MacPherson Smith Theatre and live on Facebook and Vimeo https://vimeo.com/538444632
Quote attributable to Federation University Arts Academy Director, Richard Chew
"The Arts Academy is thrilled to launch our first season of live performances post-Covid; Exquisite Corpse. We've assembled a fantastic creative team to support our students in creating their own self-devised shows, which are by turn funny, moving and deadly serious."
Quotes attributable to Federation University Vice-Chancellor and President, Professor Duncan Bentley
"The global pandemic has been particularly difficult for the arts sector, but lockdowns certainly did not bring down the curtain on creativity."
"Members of the Federation Arts Academy have supported one another, undertaking exciting new work and I am so proud to see the launch of their first major show for 2021."
Quote attributable to Exquisite Corpse Director Anthony Cawley
A grotesque name for a night of entertainment, the Dada artists of the early 20th Century played a game called Exquisite Corpse that allowed them to free-associate ideas. David Bowie even used this game as a song-writing method, and for us it has been a catalyst for ideas."