Media releases
Workshop brings lessons of the stage to everyday life
Posted: Monday 12 April 2021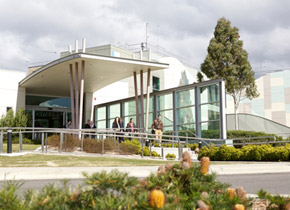 Federation University's Arts Academy has launched a new short course that uses decades of performing arts experience to help those wanting to improve their public presentation skills.
The two-day workshop Presence and Presentation will be held at the Latrobe Performing Arts Centre on 15 and 16 May.
Led by Associate Professor Rick Chew and acclaimed actor, musician and educator Nick Martin, participants will gain valuable insight and practical knowledge of how to engage an audience in their public presentations.
The course develops practical skills and familiarity with oral presentation and the concept of presence.
It uses the study of drama and performance to build understanding of the nature of presentation, real-time, recorded and written communication.
Over two decades Nick Martin has worked as an actor, musician, dramaturg, director and educator and in the past 10 years has focused primarily on the fundamentals of interpersonal communication and presentation skills for non-actors.
Through creative and collaborative games and exercises, workshop participants can gain greater awareness of how they move and speak and the effect that a deliberate approach to physical and vocal gesture can have on and off the stage.
Sessions will run from 10am – 5pm on Saturday 15 and Sunday 16 May.
For further details and enrolment, visit here.
Quotes attributable to Federation University Arts Academy Director, Associate Professor Rick Chew
"Effective communication is something everyone can learn."
"Each of us has talents in performance and presentation that can be refined with work to give us better skills and confidence in personal communication and public speaking."