Media releases
Fed Uni graduations - A time to celebrate
Posted: Monday 12 April 2021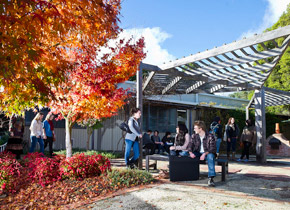 Federation University graduates will be able to celebrate face-to-face at the first in-person graduation ceremonies in more than a year.
Students who could not attend graduation ceremonies in 2020 due to COVID-19 will join new graduates for a series of small graduation ceremonies across Federation's campuses.
Ceremonies will be held tomorrow at the Gippsland campus and on Wednesday in Berwick, where the first cohort of students will obtain their Federation University degrees since the Berwick campus joined Federation University. Ballarat ceremonies will be held from 19-23 April.
More than two hundred graduates will attend the Gippsland ceremonies, Berwick's ceremonies will feature more than 200 students overall and more than 700 students will attend nine Ballarat ceremonies.
Among the local graduates is Justin Stankovic who was living out of his car when he first commenced his Bachelor of Education studies at the Gippsland Campus, writing his first essay on his mobile phone.
After working as an aircraft mechanic and security guard, Justin wanted his life to take a new direction, so he attended a Federation University Open Day and is now set to graduate with a High Distinction GPA.
Molly Irvine is graduating from her Fed Uni Gippsland degree in Health and Physical Education / Outdoor and Environmental Education.
Molly has competed at a National level as a triathlete and is a qualified strength and conditioning coach, swimming teacher and Student Mentor. She is also an active participant in high-level triathlon events at a local, state, and national level.
This month's graduation ceremonies follow a virtual graduation acknowledgement in October 2020 when graduates were unable to come together for in-person ceremonies due to the Covid-19 pandemic.
Quotes attributable to Federation University Vice-Chancellor and President, Professor Duncan Bentley
"Federation University students have shown incredible resilience over many months, whether adapting to a new mode of learning or completing a work placement during the pandemic, in order to pursue their dreams with great determination."
"It is absolutely wonderful to see graduates coming together with their family and friends to celebrate this achievement at graduation ceremonies across our campuses."
"I am so proud that our students have successfully battled the pandemic and that we have been able to provide them with the skills that employers need so our graduates can make their mark in their communities."