Media releases
Federation partners with industry for Australian-first skills initiative
Posted: Tuesday 22 December 2020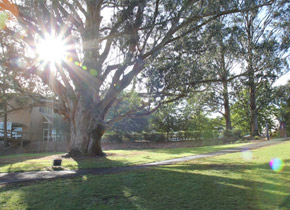 Federation University is joining with industry to deliver a major climate change initiative for Australia.
It will offer Australia's first apprenticeship in wind turbine blade repair as part of a $1.6 million funding agreement with industry partner Vestas.
From 2022, students at Federation TAFE will be able to study the Certificate III Engineering (Composites), a three-year apprenticeship scheme that will be Australia's first defined pathway for people to enter the wind generation industry as blade repair technicians.
Federation TAFE will also be the first in Australia to offer the globally recognised BZEE Turbine Technician Training Course, which was developed in Germany and is regarded as the world's key qualification enabling employment in the wind energy industry.
As well as providing $400,000 for the Certificate III and $300,000 for the BZEE course, the funding deal channels a further $500,000 towards development of the Asia Pacific Renewable Energy Tech-Transition Centre (APRETC) at Federation's Mt Helen campus in Ballarat.
The centre will help meet the workforce needs of the renewable energy sector through specialised vocational training and other collaborative opportunities.
Construction is scheduled for 2021.
When the six-month, post-trade BZEE course commences it will be open to people from electrical, mechanical engineering and automotive trades.
Federation TAFE students completing a Certificate III in Electrotechnology, Light Automotive or Engineering (Mechanical) will be eligible to apply.
The funding is part of Tilt Renewables' Dundonnell Wind Farm's Benefit Sharing Plan. Tilt Renewables, an industry partner, has separately backed the APRETC initiative both with funding and scholarship support.
It follows the provision of $200,000 by renewable energy company Global Power Generation and $300,000 by sustainable infrastructure group ACCIONA for APRETC in September 2020.
The Vestas agreement cements Federation TAFE's reputation as a leader in Victoria for globally recognised training to support the development of a skilled workforce addressing the needs of the wind power sector.
Quotes attributable to Vice-Chancellor and President, Federation University, Professor Duncan Bentley
"This generous funding by Vestas demonstrates faith in Federation University's stated goal to become the leading training and innovation partner for the renewable energy sector in Victoria."
"Support from our industrial partners is turning our vision of establishing the Asia Pacific Renewable Energy Tech-Transition Centre into an exciting reality."
Quotes attributable to Peter Cowling, Head of Vestas Australia and New Zealand
"As the largest installer and maintainer of wind generators, both globally and nationally, Vestas is proud to provide the investment which will establish Australia's first apprenticeship in wind turbine blade repair."
"Through our academic partnerships, like that of Federation University, Vestas can continue to drive the growth and expertise of our clean energy transition while demonstrating the synergy between the renewable energy industry and tertiary and vocational institutions."