Media releases
Spotlight on online learning in new FedTalks webinar
Posted: Friday 22 May 2020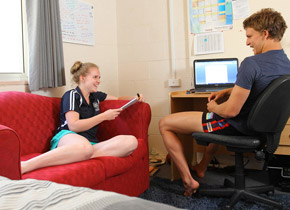 The basics and benefits of online and flexible learning for VCE and university students will be discussed in Federation University Australia's first ever FedTalks webinar.
Current VCE students, their families and university students are invited to participate in the webinar, titled 'Online Learning: The Essentials'.
Federation University Learning Skills Advisor Leigh Albon will present the webinar, which will provide information about how online learning works in a university setting, the technology used and the kind of support available.
He will offer tips for VCE and university students on remote learning during the COVID-19 pandemic and explore the longer-term future of remote and flexible learning.
It is the first instalment in the FedTalks series, which will offer members of the community, students and staff the opportunity to hear from university experts and ask questions about the research and learning happening at Federation University.
They will provide an opportunity to access information that can make a significant difference to students' region and lives.
'Online Learning: The Essentials' will be held on Wednesday 27 May at 4:30pm.
There will be opportunities for participants to ask questions throughout the webinar.
To participate, visit FedTalks.
Quotes attributable to Federation University Learning Skills Advisor Mr Leigh Albon
"We know that online learning can provide students with the opportunity to thrive. It provides flexibility for those in remote areas, with families, or with busy work schedules."
"More than ever before, this mode of learning has been brought into the spotlight and we hope this FedTalk sheds some light on how online learning works."
Quotes attributable to Federation University Deputy Vice-Chancellor (Academic) Professor Andy Smith
"Federation University moved quickly at the start of the COVID-19 pandemic to embrace online learning."
"We have been incredibly impressed with the flexibility shown by our students to embrace new learning and teaching approaches to continue with their studies online."