Media releases
Federation on the ball with Sports Symposium
Posted: Thursday 13 February 2020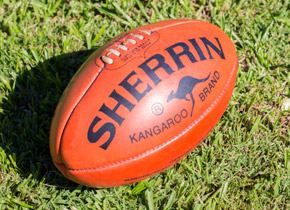 Another football season is upon us and players are training heavily. But are they preparing their bodies enough to avoid injury?
The inaugural Ballarat and District Sports Medicine Symposium will cover this topic and more at Federation University Australia's Mt Helen campus this Saturday, 15 February.
The Symposium will be held in partnership with Ballarat OSM and AFL Goldfields.
A series of experts will give keynote addresses throughout the day. Matt Hornsby, Head of Performance at St Kilda Football Club, will speak about return to play decisions after soft tissue injury.
Dr Scott Talpey, Senior Lecturer in Exercise and Sport Science at Federation University Australia, will speak about load management in running athletes.
Other topics to be discussed on the day will include the mental side of returning to play; ACL injury in female and junior footballers; managing anterior knee pain; training to prevent injury; and diet advice for footballers.
The Symposium will be held at the Geoffrey Blainey Auditorium, Mt Helen campus, from 8:30am to 3:30pm.
Quotes attributable to Dean, School of Health and Life Sciences, Professor Dara Twomey
"Injury prevention and minimising the risk of re-injury when returning to play are critical issue in all forms of sport. To be unable to participate in your sport is a major setback for yourself and your team mates."
"The Ballarat and District Sports Medicine Symposium will feature the leading sports injury experts from Ballarat OSM, Federation University, AFL Goldfields and other specialists. To have such high calibre presenters at the Symposium is fantastic for the community."
"The Symposium complements the new Health and Sports Precinct, which is now operational at the University's Mt Helen campus. Our Bachelor of Exercise and Sport Science program is our signature program in this discipline and our newly expanded Health and Clinical Exercise Clinic provides excellent services in exercise prescription for those returning to play after injury or starting exercise for the first time."