Media releases
Award-winning director goes north for new play
Posted: Tuesday 11 February 2020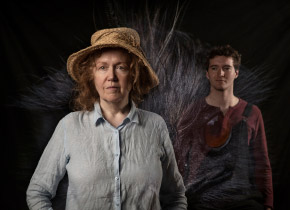 Alongside her established career as a professional director for companies such as Melbourne Theatre Company and Red Stitch Theatre, award-winning director Dr Kim Durban can often be found directing Acting students at Federation University Australia's Arts Academy.
But soon she will be heading to Cohuna in northern Victoria to direct the popular new play Running with Emus by Merrilee Moss.
The story, set in two different time zones, is about the conflicts and dynamics that arise in a small town near the Murray River as it considers becoming a 'Refugee Friendly Town'.
The new play, funded by Regional Arts Victoria, will provide an important opportunity for two 2019 Acting graduates, Sam Baxter and Elizabeth Sly, to work in their first professional production with experienced actors Julie Nihill, Kevin Dee and Gregory J Fryer, director Kim Durban, designer Adam (Gus) Powers and playwright Merrilee Moss in a significant site-specific performance.
Two performances will be staged in Cohuna at 2:00pm and 6:00pm on Saturday 29 February. But they won't be staged in a theatre. The shows will be held on the verandah of the Treetops Scout Hall, nine kilometres out of Cohuna on the edge of the Gunbower.
Running With Emus has been selected for the 2020 VCE List and the play will be published by Currency Press. The La Mama season in Melbourne opens on Wednesday 11 March and closes on Sunday 22 March.
Performances will be held on Wednesdays and Thursdays at 6:30pm, Friday and Saturday at 7:30pm.
Matinees will be held on Wednesdays and Thursdays at 1:00 pm, Friday at 11:00am, and Sunday at 4:00pm
The play runs for 90 minutes followed by a 20-minute after-show forum.
Cast members Sam Baxter and Elizabeth Sly will conduct workshops for the community on the Sunday following the performances.
Another cast member, Kevin Dee, graduated from the Arts Academy in the 1990s.
The productions in Cohuna and Melbourne promote the university's commitment to civic and community engagement, expressed in the Strategic Plan 2018 – 2022: Transforming Lives and Enhancing Communities.
Quotes attributable to Associate Professor Kim Durban
"I am so excited to direct the premiere production of this excellent new play, Running With Emus. It is a tragi-comic play about identity and what it is to be Australian in a multicultural world.
"The play reflects a global phenomenon about belonging and coping with change."
"It is great to be working with Merrilee Moss again and also with Sam Baxter and Elizabeth Sly – two outstanding graduates from the Arts Academy."