Media releases
Inspiring universities to partner regional cities
Posted: Wednesday 5 February 2020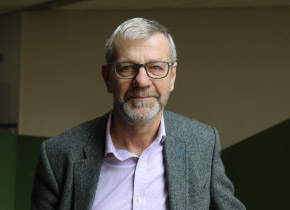 One of the world's leading biochemists, Sir Peter Downes, will reflect on his career in science, academia and entrepreneurship at a major business breakfast at Federation University Australia's Tech Park Central this Thursday.
With forty years of experience in academic leadership and drug discovery research, Sir Peter was Vice-Chancellor of the University of Dundee, Scotland, for 10 years.
Sir Peter is making a special visit to Ballarat at the invitation of Federation University. He has been meeting the senior team, staff members and local leaders throughout the week to discuss how universities can contribute beyond education and be key partners in developing cities and regional economies.
After creating partnership opportunities at the University of Dundee, Sir Peter is now focused on doing the same for the city of Dundee – and is hoping other cities will follow his lead.
In 2019, Sir Peter was appointed Chairman of Dynamic Earth, one of Europe's leading interactive museum experiences of the forces that shape the natural world.
He serves as President of the Biochemical Society; Chair of the Board of Directors, Platinum Informatics; and is a Trustee for the Entrepreneurial Scotland Foundation.
Hosted by Federation University and the Committee for Ballarat, the breakfast will commence at 7:15am at Ballarat Tech Central, SMB campus, 106 Lydiard St, South.
The event will include a panel with Sir Peter; Vice-Chancellor and President, Professor Helen Bartlett, CEO of the Committee for Ballarat, Michael Poulton; and CEO of the City of Ballarat, Justine Linley. The event will conclude at 9:00am.
Quotes attributable to Vice-Chancellor and President, Professor Helen Bartlett
"Sir Peter has been instrumental in the rejuvenation and renewal of central Dundee. His work on 'magnet cities' – cities that are not global capitals yet have unique attributes – offer many ideas and opportunities for Ballarat and other regional cities."
"He has also been an international leader in biochemistry and pharmaceutical research so we are delighted he will deliver his breakfast address at our SMB campus in central Ballarat."
Quotes attributable to President of the Biomedical Society, Sir Peter Downes
"There are many parallels between Dundee and Ballarat. They're both very clearly post-industrial cities – different industries but with a very similar timescale of history of post-industrial decline. They're both places that have ambition and aspirations to be vibrant town cities within a larger region."
"The other thing we have in common is the universities have key resources that can contribute beyond education to be key partners and stakeholders in helping to develop city and regional economies."
Quotes attributable to CEO, Committee for Ballarat, Michael Poulton
"Committee for Ballarat is committed to work with its members to advocate for and support the education sector as the town and region grows, to ensure we can continue to enhance Ballarat's profile as a centre of excellence for education."