Media releases
Federation brewing no small beer
Posted: Thursday 9 January 2020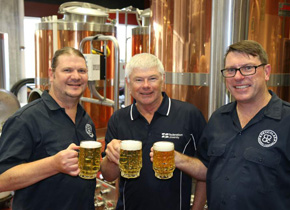 Ballarat's best home brewers will take their hobby to the next level with a session on brewing at Federation University Australia.
Beer lovers Dan Court and Paul Richter, winners of last year's Ballarat Beer Festival Homebrew competition, will receive specialist brewing advice from Federation University's brewing expert, Associate Professor Peter Aldred.
As part of the Ballarat Beer Festival prize, the two winners will brew 500 litres of American Amber Ale that will go on sale at Ballarat's Mallow Hotel.
Federation University is renowned for its brewing courses. As the first university to provide a brewing course in Australia and the only one to provide a postgraduate course, the university has produced more than 100 brewing graduates, many of whom have created their own successful craft beers.
Renowned brewing graduates from Federation include Rob Callin at Macalister Brewing Co in Cairns; Matty Moore at Bright Tank Brewing Co in Perth; and Dan Dainton at Dainton Brewery in Carrum Downs. Several graduates also work at Little Creatures brewery.
Picture: Dan Court, Associate Professor Peter Aldred, Paul Richter
Quotes attributable to Associate Professor Peter Aldred
"Brewing beer has never been as exciting as it is now, particularly with the wide variety of beers and the new ingredients being used."
"The University has a very long brewing history and holds several short courses in brewing each year and also provides distance education programs."
"Our graduates are entering a lucrative industry. Beer in Australia accounts for $16.5 billion a year in economic activity, which is about one per cent of Australia's GDP."
Quotes attributable to Paul Richter
"I have been brewing at home for the past 15 years and recently we've been experimenting with different styles and methods. We can brew up to 200 litres on our system, so it's really exciting to produce our winning recipe at commercial scale."
Quotes attributable to Dan Court
"It's brilliant to have the opportunity to test our recipe on a commercial system. We look forward to working with Peter Aldred at Federation University, picking up many tips to improve, and seeing our beer on tap at the Ballarat Beer Festival and Mallow Hotel too."