Media releases
Governor delivers Sir Albert Coates Oration
Posted: Thursday 28 November 2019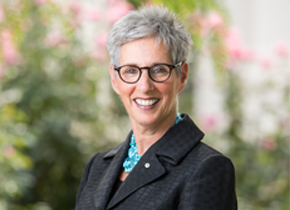 The Governor of Victoria, Linda Dessau AC, was welcomed to Federation University Australia's Mt Helen campus last night to deliver the 2019 Sir Albert Coates Oration.
The Sir Albert Coates Oration is a free annual public event established to commemorate one of Ballarat's leading figures, with the guest speaker delivering a formal speech on a topic of their choice that typically involves reflections on their experience in public life.
Born in 1895 at Mt Pleasant, close to the present-day Sovereign Hill, Albert Ernest Coates became one of Australia's top surgeons and a pioneer in the field of neurosurgery.
As a very young man, he served at Gallipoli and on the Western Front during the First World War and, at the age of 46, he volunteered for service in the Second World War. Captured by the Japanese, he became one of the hero-surgeons on the infamous Burma-Thai Railway. He was knighted in 1955 and died in 1977.
The Governor, Linda Dessau AC, has a distinguished public career. Born in Melbourne in 1953, she graduated from the University of Melbourne and in 1975 was admitted as a barrister and solicitor of the Supreme Court of Victoria.
In June 1995, the Governor was appointed a Judge of the Family Court of Australia, where she served for 18 years until July 2013.
In July 2015, the Honourable Linda Dessau AC was sworn in as Victoria's 29th Governor, the first female in the role.
In 2017, the Governor was made a Companion of the Order of Australia for eminent service to the people of Victoria through leadership roles in the judiciary, to the advancement of economic ties and business relationships, and as a supporter of charitable, sporting and arts organisations.
Previous Sir Albert Coates Orators have included former Deputy Prime Minister Tim Fischer AC and Air Chief Marshal Sir Angus Houston AC. The Oration was held at the Geoffrey Blainey Auditorium, Mt Helen campus.
Quotes attributable to Vice-Chancellor and President, Professor Helen Bartlett
"It is a great honour to welcome the Governor back to Ballarat – she has been a strong supporter of the University and always engages warmly with our students and staff."
"Sir Albert Coates' legacy provides many avenues for us to reflect on our lives and priorities. We look forward to the Governor's Oration and insights into public life."