Media releases
New award for tackling barriers for women in science
Posted: Monday 23 September 2019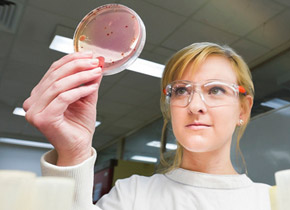 Federation University Australia has been awarded an international accreditation for its progress and commitment to remove the barriers that prevent women from achieving their potential in traditionally male dominated careers in science, technology, engineering and maths (STEM).
The Athena SWAN (Scientific Women's Academic Network) Institutional Bronze Award is presented by Science in Australia Gender Equity (SAGE) and endorses a four year program of actions to improve gender equity in Federation's academic workforce, developed in consultation with SAGE.
This reflects the university's commitment to not only recruit more women in STEM fields but to also ensure that we don't lose our female talent.
The action plan outlines more than 40 priorities including gender and cultural diversity, organisational culture, recruitment, induction, career development and promotion.
To fulfil this plan, the university will offer a range of initiatives, such as extra training for managers in gender equity and diversity, support for early career researchers and for researchers returning from maternity leave, support with preparing for academic promotion and a program to address the impact of unconscious bias on women's career prospects.
Evidence shows these kinds of measures work, with a recent Victorian Government program finding that in one government department, before de-identifying CVs, men were 33 per cent more likely to get a role. After de-identification women were eight per cent more likely to be hired than men.
Receiving the Bronze Award commits Federation University to continuing its work with SAGE to introduce practical measures between 2019 and 2022 that remove the barriers women face in STEM careers.
Quotes attributable to Vice-Chancellor and President, Professor Helen Bartlett
"Women have contributed enormously to advances in science, technology, engineering and maths but we know that they still face barriers to reaching their full potential."
"We recognise that tackling these barriers and making sure women have equal research and career opportunities in STEM requires systemic change – receiving this award demonstrates Federation University is already making practical changes and is committed to achieving gender equity and diversity."
"Working towards gender equity and diversity is not only the right thing to do, it produces good outcomes for business, innovation and employees."