Media releases
Federation hosts Minerals Institute Symposium
Posted: Friday 13 September 2019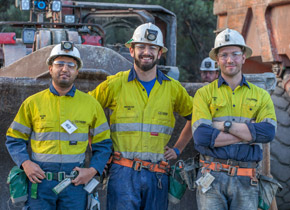 Experts in minerals and geology have been 'Romancing The Stone' at the AusIMM Regional Symposium at Federation University Australia.
Among a wide range of topics, the fascinating development of the Stawell Underground Physics Laboratory and the search for dark matter was on the agenda. Jordan Rogers, a student from Girton Grammar School, spoke about the Earth Science Olympiad Challenge, and Karol Czarnota of Geoscience Australia gave a presentation on Exploring For The Future.
A discussion on Health and Wellbeing Initiatives at the Ballarat Gold Mine also was included.
The 'Romancing The Stone' symposium was held at the Science and Engineering Building (Y Building) at the University's Mt Helen campus.
AusIMM (Australasian Institute of Mining and Metallurgy) is one of Australia's primary peak bodies representing 13,000 professionals in the minerals industry. Federation University students have received many awards and scholarships from the body in recent years.
Quotes attributable to Vice-Chancellor and President, Professor Helen Bartlett
"Federation University has a long and proud history of delivering world-class mining and geology programs."
"Our School of Mines and Industries Ballarat (SMB) commenced in 1870 as the first technical training institute in Australia. Currently 80 per cent of Federation Geoscience graduates enter the resources industry in Australia and internationally."
"The annual symposium attracts hundreds of scientists throughout Victoria and beyond, all of them keen to share knowledge and ideas about recent industry developments."
"The event also is a great opportunity for our mining, mineral processing and geology students to interact with their industry throughout the day."