Media releases
Ballarat Tech School a finalist in Sustainability Awards
Posted: Thursday 12 September 2019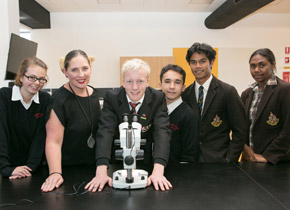 Ballarat Tech School students have been recognised for their commitment to the environment by being selected as finalists in the Education category of the Premier's Sustainability Awards 2019.
Their nomination is for the Tech School's outstanding entry 'War on Waste – Precious Plastic Program'.
Highlights of the Tech School's activities that inspired the nomination include:
The partnership with plastic recycler Replas: The students focused on creative and entrepreneurial solutions to plastic waste and the creation of sustainable products.
The Girls in STEM Term One program worked with local company Bartlett's on industrial design and waste product innovation. Students were given a rectangle of industrial fabric 'waste' that is produced every time a large door is manufactured. The girls had to produce a new product from the waste.
The Ballarat STEM Network event supported by IBM Corporate Citizenship with ABC presenter Craig Reucassel discussed the perception of waste and the need to shift thinking and practice based on local, national and global approaches.
These activities highlighted the impact that comes from collaboration between industry, education and community.
The Premier's Sustainability Awards recognise and reward businesses, government, institutions, communities and individuals taking an innovative, practical and progressive approach to sustainability.
The awards ceremony will be on Thursday 10 October at the Forum in Melbourne.
Quotes attributable to Director, Ballarat Tech School, Sofia Fiusco
"Ballarat Tech School and our students are strongly committed to sustainability and the war on waste."
"We are delighted to have been nominated for the Premier's Sustainability Awards and we will continue to work with industry and the community to help create a sustainable future."
"Our Partner School students are to be congratulated for their work and commitment in this field."