Media releases
Arts Academy presents The Comedy of Errors
Posted: Wednesday 11 September 2019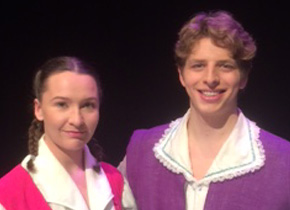 William Shakespeare will return to the Arts Academy this month with the production of The Comedy of Errors by Federation University graduating acting students.
To be presented at the Helen Macpherson Smith Theatre in Camp Street, Ballarat, the production will run from Wednesday 11 to Sunday 15 September.
The Comedy of Errors will be directed by James Pratt. It is Shakespeare's shortest play; a comic dramatic work using buffoonery and horseplay and typically including crude characterisation and ludicrously improbable situations.
It involves two sets of twins, a wife, a sister and a dad condemned to death and heaps of mistaken identity. The play is a 'comedy' that speaks to us today about gender and power.
The show will be in production from Wednesday 11 to Friday 13 September from 7:30pm. It also will be staged at 2:00pm and 7:30pm on Saturday, 14 September; and from 2:00pm on Sunday, 15 September.
Quotes attributable to Director of Arts Academy, Associate Professor Richard Chew
"Shakespeare is at the heart of our pedagogy here at the Arts Academy and the students have worked hard to make this production of The Comedy of Errors just right."
"Audiences can expect a witty and entertaining play from the world's most renowned playwright."
"The Arts Academy students are looking forward to completing their year with this production and embarking on their exciting careers."