Media releases
Conference to explore early childhood education
Posted: Wednesday 11 September 2019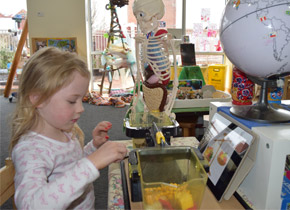 New research and advancements in the best methods to educate young children will be unveiled in the upcoming Early Childhood Education Conference at Federation University Australia.
The conference will present a valuable professional development opportunity for educators and provide insight into learning and teaching techniques and theory in the early years sector.
Topics throughout the conference will include
Latest research from experts in the field
Best practice in early childhood education
Nature Pedagogy in the Early Years and the Australian context
Marrung Aboriginal Education Strategy and/or Indigenous Cultural Competency in the early years
The conference, Early Childhood Education Conference: Making Early Childhood Matter, will be held at the Mt Helen campus on Saturday, 5 October.
Dr Red Ruby Scarlet will be keynote speaker. An award-winning academic, she has been working in the discipline for over 25 years and is devoted to inclusive practices promoting dignity and integrity in early childhood. Federation University academics also will present on their current research.
Visit federation.edu.au/campuslife for registration details.
Quotes attributable to Dean of the School of Education, Professor Claire McLachlan
"One of the main aims of the day is to share our knowledge and research providing a valuable professional development and learning opportunity to those directly involved in the industry."
"We are looking forward to the opportunity to share some of our current research topics with members of the early years community in this format."
Quotes attributable to Director of Campus Life, Colin Marshall
"This conference will be the first in a number of early childhood professional development opportunities that Federation University will host across the Ballarat, Gippsland and Berwick campuses over the next year."
"We are encouraging anyone involved in Early Childhood Education to come along and be a part of what is shaping up to be a great day."