Media releases
Facing up to cricket injuries
Posted: Friday 30 August 2019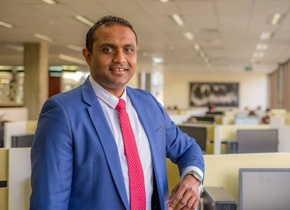 Recent high-profile cricket injuries have inspired a national survey of Australian cricket clubs to evaluate attitudes and knowledge among cricket participants towards wearing safe headgear.
Dulan Kodikara, a PhD student from the School of Health and Life Sciences at Federation University Australia, who is also a titled sports physiotherapist working closely with cricketers, with the support of Cricket Australia, will survey club cricket participants on why they choose to wear headgear or avoid it.
Mr Kodikara's research will include community participants (club and junior) cricketers and not just professional cricketers.
Cricket Australia recently announced that from the 2019/20 cricket season all state and pathway players in Cricket Australia-managed competitions must wear helmets when batting, wicket keeping up to the stumps and fielding close to the bat.
The use of neck guards on helmets is recommended but not compulsory.
As a part of Mr Kodikara's PhD research he will conduct a nationwide survey among cricket participants including coaches, umpires and other support staff on the following:
Extent and use of protective headgear/helmet;
The knowledge and awareness of current concussion guidelines in cricket; and
Injury risk perception in relation to head, neck and facial injuries in cricket
In 2010, Mr Kodikara was hit in the eye through the grill while wearing a helmet, which has motivated him to take up this project.
Quotes attributable to Dulan Kodikara
"Cricket is generally considered a safe and low risk sport, particularly in comparison to contact sports such as football, rugby and ice hockey."
"But the recent injury to Australian cricketer Steve Smith and the death of Phillip Hughes in 2014 have highlighted the very real dangers of not wearing safe headgear on the field."
"Cricket has changed a lot over the past ten years with 20-20 tournaments, increased bowling speeds and improved bat design. This may partially account for the increase in head, neck and facial injuries."
"It is not just batsmen who receive these injuries. In recent years bowlers, wicketkeepers and umpires have been injured by being hit by a cricket ball. An English umpire died recently after being hit."