Media releases
University celebrates Ballarat Business Awards
Posted: Thursday 29 August 2019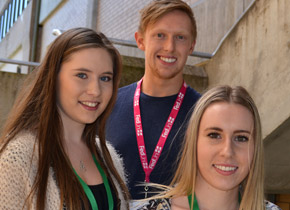 Federation University Australia will celebrate its links with commerce and industry this week as sponsor of the 2019 Federation Business School Commerce Ballarat Business Excellence Awards.
Almost 70 per cent of Federation University graduates go on to work in regional areas, with many of the university's alumni holding senior roles across the 42 businesses announced as award finalists.
Rachel Phelan is a senior accountant at Ballarat accounting firm Chris Packer and Associates, which is nominated for the Ballarat Volkswagen Professional Service Business Award, and says her experience doing a double degree in Commerce and Sports Management at Federation gave her the skills and knowledge she needed to pursue a successful career.
The company's business development manager Lindy Packer also has a long involvement with FedUni TAFE in establishing programs and says she learnt the value of lifelong learning at Federation and applies that in the ongoing professional development of her staff.
Spanning 15 categories, the Federation Business School Commerce Ballarat Business Excellence Awards are a valuable opportunity for the region's enterprises to highlight their achievements and commercial success. Federation Business School also sponsors the Creative Industries Award.
Quotes attributable to Vice-Chancellor and President, Professor Helen Bartlett
"The partnership between Federation University and the Ballarat Business Excellence Awards is an enduring success story and we value the knowledge and guidance both partners share."
"The Federation Business School has close relationships with local industries and produces many graduates who stay to work within their region."
Quotes attributable to Chris Packer and Associates Business Development Manager Lindy Packer
"I have been involved with TAFE training within the sector for many years and embrace its concept of lifelong learning."
"We aim to instil this ideal with our staff and encourage ongoing learning and development to enhance skills and qualifications."
Quotes attributable to Chris Packer and Associates Senior Accountant Rachel Phelan
"Studying at Federation University gave me the skills and knowledge to pursue a successful career. The teaching staff focused on getting us a job."