Media releases
Brisbane students shine at Lantern Parade
Posted: Tuesday 30 July 2019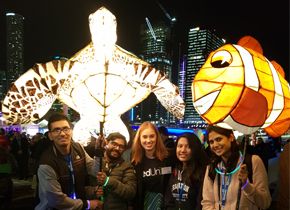 Federation University's Brisbane students have proudly taken part in their first LUMINOUS Lantern Parade recently.
The event saw more than 20,000 people come to South Bank Foreshore to celebrate Queensland's cultural diversity and the University was delighted to be the key educational sponsor for the event.
Lanterns were paraded throughout the city to symbolise hope and to advocate for a safe and prosperous multicultural community.
Many Federation University staff and students walked in the parade to show their commitment to supporting international students.
The University's lantern holders were students Srikanth Kondandaram and Geetu Arora.
Quotes attributable to Student Support Advisor Michaela Van Balveren:
"The event was absolutely fantastic. Brisbane's community spirit was out in full force and I saw such beautiful involvement from our students."
"I think the LUMINOUS event reminded those home-sick students that they're not alone, something we always try to reinforce. Being surrounded by so many people helped them feel part of a broader community and recognise that they chose a truly multicultural city."
"Seeing so many different organisations highlighted that there are numerous support avenues out there for our students. From the Student Hub, to Residential Support, cultural communities. There are so many organisations and resources available."
Quotes attributable to Srikanth Kondandaram:
"I was super excited to hold the lantern. We experienced rich diversity and culture in the parade which created a good mood within the team. I tried my best by engaging students with the crowd. We enjoyed bringing our culture and tradition by singing and chanting jingles in the parade."
"As an international student, it's very important for me to respect the cultures and traditions brought by fellow classmates."
Quotes attributable to Geetu Arora:
"It was a proud moment for me. I was honoured to hold the Nemo lantern for Federation University. To me, it signified a sense of hope and belonging."