Media releases
Symposium explores education for different ages
Posted: Thursday 25 July 2019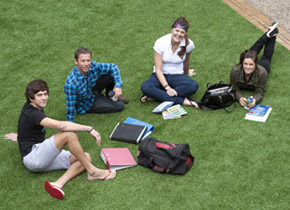 The challenges and opportunities of educating children from different age groups will be explored at an education symposium at Federation University Australia's Berwick campus.
The University's Pedagogy, Curriculum, Assessment and Learner Engagement research group (PeCALE) will host the event, Supporting Thinking with Different Age Groups, on Friday 26 July.
Teachers from 70 schools across the Berwick region have been invited to the symposium, which will feature eight presentations from speakers with expertise ranging from early childhood to secondary school.
This includes internationally recognised early childhood expert and Dean of the School of Education, Professor Claire McLachlan.
Professor McLachlan will speak about her experience in the development and use of innovative data systems to help New Zealand Early Childhood Education teachers examine young children's curriculum experiences and strengthen their teaching practice.
Director of the Gippsland Tech School, Paul Boys, will give a presentation on approaches that support student engagement and retention.
Bronwyn Joyce, teacher and founder of the international education networks, Education Elevators and Our Global Classroom, will also share insights and experiences gained from implementing digital pedagogical approaches in her year 5/6 class.
To register for the symposium visit: https://www.eventbrite.com.au/e/pecale-research-informed-practices-symposium-supporting-thinking-with-different-age-groups-tickets-61775952537
Quotes attributable to PeCALE group convener, Dr Anna Fletcher:
"All of the speakers at the symposium will present practical ways to apply innovative educational research in the class room."
"From early childhood to secondary school - digital technology offers exciting opportunities and challenges for educators and this conference will showcase some of the latest innovations in education from Federation University and other industry leaders."