Media releases
Conference to showcase cutting edge research
Posted: Wednesday 24 July 2019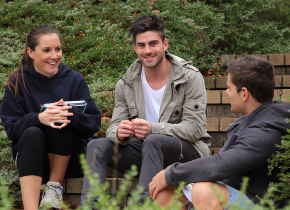 Research into the effects of pharmaceuticals in water on the environment, and exercise to treat depression in the elderly, will be just two of the major topics at Federation University Australia's Higher Degree by Research Conference.
The annual event showcases the cutting edge research being conducted by Federation University's postgraduate students, with 57 presentations featured.
The conference theme is 'Research that Matters', which emphasises the university's focus on practical research that solves real-world problems.
Other research topics to be highlighted at the conference include the storing of health related data, the success stories of Indigenous Australians, heat-related sports and leisure injuries and women's health care experiences and human rights in Victorian prisons.
The Higher Degree by Research Conference will be held on Thursday, 25 July, at the Mt Helen campus.
Quotes attributable to Deputy Vice-Chancellor (Research & Innovation), Professor Chris Hutchison:
"This year's conference is particularly important. Whether it is climate change, challenges to employment demographics or health, it is critical that the research we carry out has positive and measurable impacts on the communities we serve."
"It is important to build a culture of community and HDR students are a pivotal part of our research community."
"Our higher degree students can capitalise on this conference and promote their research and fast track their careers."