Media releases
Students pitch ideas at Brisbane incubator
Posted: Monday 15 July 2019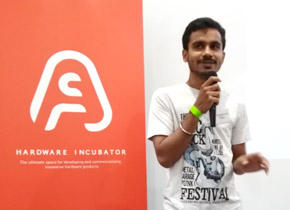 Federation University students are not just learning in the class room. They are heading out to start-up weekends where they share their ideas and innovative plans with other students.
The Arc Hardware Incubator event was ideal for the University's Brisbane students. The 54-hour start-up weekend brought many designers and experts together.
The students had access to the most advanced technology including 3D printers, laser printers and vinyl cutters.
One project, Re: CAN, involved a seven-member team building a smart recycling bin embedded with a sensor that detects full capacity, thus maximising the use of recyclable products.
Among other products developed by Federation University students during the weekend was a new blind spot detector for bicycles which will make cycling on roads safer and help reduce the number of accidents involving cyclists.
Called Wingman, the blind-spot detector sensor is designed to improve road safety and traffic awareness for bicycle riders.
Quotes attributable to Executive Director of the Brisbane Campus, Alex Elibank Murray:
"The Brisbane Campus's partnership with Arc Hardware Incubator is another important avenue for our students to gain real world experience and build skills in a practical setting in collaborative teams."
"The weekend took many students out of their comfort zone and we were very proud to watch how this positively impacted their self-confidence."
"A number of students were able to use the experience to contribute toward their professional experience courses which is a feature of Fed's commitment to in-situ learning."
Quotes attributable to student Rojina Pahari:
"The mentors from ARC provided us with the guidance and advice in each step of product development."
"It was an awesome environment to network with new people, develop innovative ideas and learn about the start-up ecosystem."