Media releases
Outstanding alumni honoured at ceremony
Posted: Friday 5 July 2019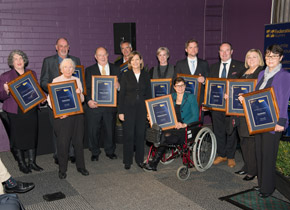 Leaders in high performance sport, electronic gaming, business and information will be among eleven distinguished Federation University Australia graduates to be recognised at the 2019 Alumni Awards.
Introduced in 2014, the Federation University Alumni Awards have recognised many of our prominent and successful graduates, both nationally and internationally. The 2019 awards will bring the total number of recipients to 40.
This year's awardees will join other prominent alumni members including former Victorian Premier Steve Bracks, biotechnology entrepreneur Kiran Mazumdar-Shaw, athletics champion Steve Moneghetti, Vegemite inventor Cyril Callister and film maker Roger Donaldson.
The 2019 Alumni Award recipients are:
Michael Poulton – 2019 Alumnus of the Year
Michael has distinguished himself in the world of high performance sport. He lectured at the University for many years and has worked with the AFL, Tennis Australia and Athletics Australia.
Dayle Stevens – Alumna of the year Award
Dayle is an award winning technology executive. She spent her early years as an IT consultant and is now one of Australia's top 50 Chief Information Officers.
Samuel Mayo – International Alumnus of the Year Award
Samuel is at the forefront of competitive gaming. Since moving overseas he has worked for major companies including Electronic Arts and NVIDIA.
Rodney Beach – Distinguished Alumnus Award
Rodney is a passionate ambassador for the Learning and Development Sector. He founded Liberate eLearning, a leading provider of digital learning.
Benjamin Cole – Distinguished Alumnus Award
Benjamin is an award winning graphic designer. He has worked with Adidas and is now a Design Director at Xtep, one of China's leading sporting apparel manufacturers.
Dr Elizabeth Lewis-Gray – Distinguished Alumnus Award
In 1995 Dr Lewis-Gray started a multi-national business from her backyard marketing her husband's mineral processing inventions. Today that business is one of the most successful businesses in its field, boasting over 400 installations across 44 countries.
Dr Gregory McRae – Distinguished Alumnus Award
Gregory is one of the nation's leading scientists of the past 40 years, both in Australia and the USA, and has founded four companies.
Vernon Wall – Distinguished Alumnus Award
Vernon's commitment to community theatre over the past 45 years in Ballarat and Bendigo has made him a leader in his field.
Julia Margaret (Bella) Guerin – Distinguished Alumna (Posthumously)
Julia Margaret (Bella) Guerin was known for her public radicalism, feminism and skilled oratory. She was the first woman to graduate from an Australian university, the University of Melbourne, with a Bachelor of Arts in 1883 and a Master of Arts in 1886.
Dr Jeanette Watson – Distinguished Alumna Award
Jeanette (Jan) Watson has always been a pioneer. She was the first female science student at the School of Mines Ballarat (SMB) despite meeting resistance from both the faculty and her fellow students. After graduating in 1947 she worked as a metallurgical chemist in Ballarat and then Melbourne where she also studied geology part-time at the Melbourne Technical College, another first.
Dr David Stratton – Distinguished Alumnus (Posthumously)
David was awarded the University of Ballarat's first Doctor of Information Technology doctorate for his research in distributed computer systems and went on to lead the Distributed Simulation Laboratory, later the Virtual Reality and Simulation Laboratory. David passed away last month.
Quotes attributable to Vice-Chancellor and President, Professor Helen Bartlett:
"These awards are an opportunity to recognise the success and achievements of our alumni and to inspire our current students to chase their dreams once they graduate."
"As Federation University alumni members, the award recipients join more than 107,000 other successful graduates since the University's beginnings in 1870."
"I congratulate our alumni award recipients and share with our whole university community an enormous sense of pride in their achievements."