Media releases
University artist celebrates 30 years of exhibitions
Posted: Friday 24 May 2019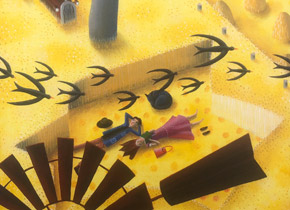 Renowned Gippsland artist Rodney Forbes is set to mount his seventeenth solo exhibition at Australian Galleries, Melbourne's oldest commercial gallery.
An Adjunct Senior Research Fellow at Federation University Australia, Mr Forbes headed the Gippsland Centre for Art and Design at Churchill for eight years and will be celebrating 30 years since his highly successful debut show at the gallery.
Mr Forbes came to Gippsland in 1980 to study Visual Arts at the legendary Gippsland School of Art at the then Gippsland Institute of Advanced Education. He returned to teach painting at Monash and then Federation University.
His new exhibition, Choice Language, will run from 28 May to 16 June at Australian Galleries, Collingwood.
One of Mr Forbes' recent projects was the 2017 exhibition, 'Lohan Tuka: The Lost White Woman of Gippsland', which toured three venues in Melbourne and Gippsland.
It told the story of Gippsland's 'founder', explorer Angus McMillan, who led massacres of GunaiKurnai people, and was made 'Protector of Aboriginals' and a Member of Parliament for his efforts.
McMillan paintings were used by playwright Jeannie Haughton in the set projections for her recent play about McMillan, Nightshades and by NITV in their film McMillan's Stick.
Gippsland Art Gallery in Sale will host a 40 year survey of his past work in 2020.
Image: One Perfect Day, 2019
Oil on canvas, courtesy of the artist and Australian Galleries
Quotes attributable to Rodney Forbes:
"This exhibition looks at the themes of home, love, how we remember and forget, and how we must choose our words carefully. I love using high-key colour in painting and it's on full display in this show."
"My painting has always been about honouring the way people tell stories and Gippsland is rich in fascinating stories."
"My last two exhibitions were highly thematic, about colonial history and the sea respectively. With this one I've enjoyed traversing a range of topics that have meaning for me at the moment."