Media releases
Graduates parade down central Ballarat
Posted: Tuesday 7 May 2019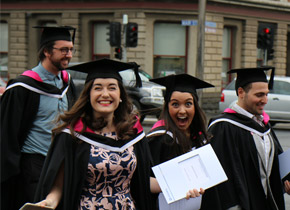 Federation University Australia graduates have paraded through central Ballarat as part of the University's first graduation ceremony of the year.
More than 1,200 students will graduate at ceremonies in Ballarat and Gippsland this month.
Arts Academy and TAFE students graduating on Wednesday paraded down Lydiard Street in their academic robes to the Mining Exchange after the graduation ceremony at the Regent Cinema.
This included the recipient of the Vice-Chancellor's Award for Excellence, Joanne Lee Neil-White.
The TAFE graduate was inspired to study the Advanced Diploma of Building Design (Architectural) after building her own home, achieving outstanding results while overcoming the challenges of studying while raising a family.
Ten PhD students will also graduate at various ceremonies in Ballarat and Gippsland over the course of the month. With topics ranging from mental health to the environment, their research reflects the University's priority on research that has a real-world impact.
This includes Ballarat graduate Paul Sadler's PhD addressing Cognitive Behaviour Therapy for Insomnia and Depression Among Older Adults, and Ballarat graduate Robert Holmes' PhD on Reducing Climate Change Related Fugitive Greenhouse Gas Emissions from Operational Longwall Coal.
There will be seven more graduation ceremonies in Ballarat and Gippsland from 13 to 29 May.
Quotes attributable to Vice-Chancellor and President, Professor Helen Bartlett:
"This is the culmination of many years of work and sacrifice for our graduates and an exciting time for them as they enter the workforce and build their careers."
"The Ballarat CBD ceremony is always a highlight of our year as it gives the University and its graduates the opportunity to celebrate with family and friends in the heart of our community."